Do you want to instantly understand how a song works harmonically…
…and apply that knowledge to your own songwriting?
In my journey to understand music theory and make better music, I found the website Hooktheory.
I have always struggled to create music with my limited knowledge of theory. It isn't for lack of trying. I have tried to work through college music theory textbooks and I always ended up trying to figure out how this would apply to my songwriting or production.
I eventually started sketching up my musical ideas in their songwriting software, Hookpad.
It has made it extremely easy to get my ideas down and broaden my musical ideas by helping me get out of some of the boxes I had created for myself.
No matter, if you are an advanced songwriter or a novice, you will be able to help you create better progressions and melodies faster through the many features of Hookpad.
In this review, I am going to break all the benefits of Hookpad, its songwriting features, and how to use it like a pro. Let's get into the Hookpad review!
What is Hookpad?
Hookpad is a musical sketchpad that will help you create chord progressions and melody with the essential music theory aspects built-in. Backed by a database of over 13,000 songs that have been analyzed, it gives you melody and chord suggestions to help you if you get stuck or want to think outside the box.
It was created by 3 UC Berkeley engineers who have a deep passion for music and hope that the Hooktheory platform helps musicians craft better music and gain a deeper understanding of how music works.
Hookpad is not the only product created by the Hooktheory team. They have created numerous other music theory educational products to help guide you as you develop as a songwriter.
TheoryTab: This is the database of over 13,000 songs that have had their chord structure and melody analyzed.
HookTheory Books: Through the Hookpad platform, they have created a music theory book, unlike any other. It has audiovisual examples that reference modern music so that you can start creating music like professional songwriters.
Chord Crush: A new chord progression ear training program
Who is Hookpad for?
Hookpad makes songwriting approachable for beginners and contains features that experienced songwriters will benefit from. So if you are a songwriter, musician, or even a producer, I think you will find Hookpad a valuable tool in your songwriting kit.
I'll explain how beginners and experienced songwriters can benefit from using Hookpad.
Beginners and Songwriting Novices
For beginners, one of the biggest barriers to starting to writing songs is music theory, but Hookpad takes the concepts of music theory and has built them into the tool so you don't have the fear of making a mistake or getting overwhelmed with too many options. I'll explain how it does this.
Hookpad (by default) shows only the notes and chords in the song's key. The notes and chords are colored to represent his function in the scale.
So if you are just a beginner and you don't know what makes a good chord progression, Hookpad will show you which chords will work well with your current chords and scale. It can also suggest where to go next. There is also an option for melody guidance to help you figure out what might sound good over each chord. You are probably curious about all of these features, and I get those in the next section.
Experienced and Professional Songwriters
For experienced songwriters, Hookpad provides a great workflow for auditioning ideas and hearing them in many styles with just a click of a few buttons. Many of the people I talked to said that many of the other alternatives are still very clunky with the way you have to input notes and create chords. However, they didn't experience that at once while they got used to the keyboard shortcut in Hookpad.
Also, Hookpad features many options that the more experience songwriters can feel limited in other songwriting software such as having pickup notes, key changes, adding in time signature changes. Pretty much only your creativity is your limit.
Overview of Features
Hookpad comes packed with useful features that will help you in your songwriting journey.
Songwriting Toolset
Chord Palette: No more blindly guessing what chords to use through trial and error. Hookpad's chord palette groups chords that work well in a key. Then with a couple of clicks, you can build a great sounding progression. For the advanced users, don't worry, you will be able to use whatever chord you want to use without any limitations.
Melody Guides: After selecting a few chords, Hookpad highlights the notes that belong to the chord to help show you which chords will be more stable and which ones will be unstable (dissonant). The Hooktheory books also go into detail about writing melodies
Large Virtual Instrument Library
Tired of working with that default piano virtual instrument? Well, Hookpad listened to their wide range of songwriters and producers and include a huge library of various virtual instruments to spanning many genres and styles.
You don't have to wait to hear how it might sound once it is arranged with full instrumentation, Hookpad will give you a glimpse with just a few clicks.
I was able to create a chord progression and melody and addition it in my different styles from more EDM based, to rock, and even jazz. I found it very inspiring to hear my melody arranged in so many different ways so quickly. I was able to make some more interesting decisions once I imported everything into my DAW and started to really produce it.
Check out the demo of their sound library below.
Fully Searchable Database of 13,000 Songs
Another great addition to Hookpad that is totally free is the ability to take advantage of the work done by the user community and search through the library of chords and melodies from over 13,000 hit songs.
I found this very useful mainly when I hear I song that I like and I want to experiment with it. I simply find the song on TheoryTab and copy to Hookpad, and then I can manipulate it any way I want.
Export Functions
Being able to collaborate is an essential part of being a modern songwriter. These days most hit songs are written by half a dozen songwriters. So you need to be able to quickly and easily share your ideas.
Hookpad lets you easily share your creations in the format of your choosing – guitar tab or sheet music.
If you have an idea sketched out in Hookpad, you can export the tab for your guitarist, while you give the keyboardist the sheet music. Everyone is on the same page, and you get to make music faster.
Magic Chord
If you are looking for inspiration for something new or you just happen to be stuck with your chord progression. Hookpad offers a solution through its Magic Chord feature. Magic Chord gives you the option to let Hookpad analyze your chord progression and compare it to its TheoryTab database that uses a similar structure to give you hints as to what chords might work best.
Drag and drop to your DAW
Trying to start the songwriting process inside your DAW can be difficult with all the possibilities and distractions that it offers that are not related to the songwriting process. I can't tell you how many times I have started to write a song, only to be distracted for an hour by trying to find the right synth patch or drum sample. While this can be improved with better discipline and workflow management. I have found Hookpad's feature of simply being able to drag-and-drop straight into my DAW a huge time saver. I can write the core elements of my and then take it into my DAW and tweak the arrangement. I have been much more productive since I have incorporated it into my workflow.
You can drag-and-drop MIDI chord progressions, basslines, melodies, and drum track from Hookpad straight into your DAW. You are also given dozens of options for rhythm patterns.
Advanced Songwriting Features
For the experienced songwriters, composers, and producers, you might feel Hookpad might be limiting from looking at the pictures and you might have some questions like:
Can I use non-diatonic notes?
Can I add in borrowed chords?
Can I change the key for the verse or chord?
The answer to these questions are all YES.
The people at Hookpad had the songwriter in mind when they made this software. When I am working in Hookpad, I have not encountered anything that has hindered my creativity.
HookTheory Platform
Hookpad is just one aspect of the platform that the people behind HookTheory have created. There is an entire ecosystem that revolves around music education and creativity that they have inspired.
Hooktheory Books: They have created a modern solution to learning music theory that isn't bogged down like the more traditional music theory textbooks. it contains audiovisual examples of modern songs to help the modern songwriter advance their songwriting skills. At the fraction of the cost of a college music theory textbook.
Theorytab: This is the modern version of a guitar tab, but with the benefit of showing the music theory behind it so you can understand how it is constructed. There is a database of over 13,000 songs created by the community at Hooktheory. It shows the melody and chord progression of the song while playing back in time with the actual recording. It has helped me take my music theory knowledge to the next level. The best thing is that it is completely free!
How to use Hookpad
Hookpad is actually extremely easy to use and the starter version is completely free to use with only some limitations.
Go Here and Click "TRY FOR FREE"
Once you do that follow along with the video to get an understanding of the basic functions. Even though it is in the browser, it makes use of keyboard shortcuts and feels very intuitive.
To create a chord progression, click on the chord regions (the smaller rows with the roman numerals). You can use the keyboard (1-7) to add in the corresponding chord number. There are also options such as:
Magic Chord
Search TheoryTab
Use Premade progressions
Search and view the most popular progressions
Bass Sets (Various chord options based on the bass note of your choice)
On the sidebar, there are many other options to change the type and qualities of the chord.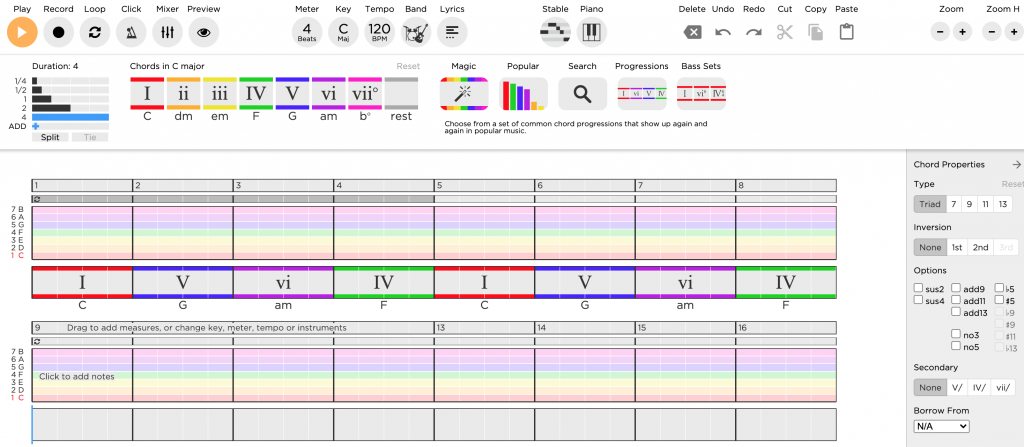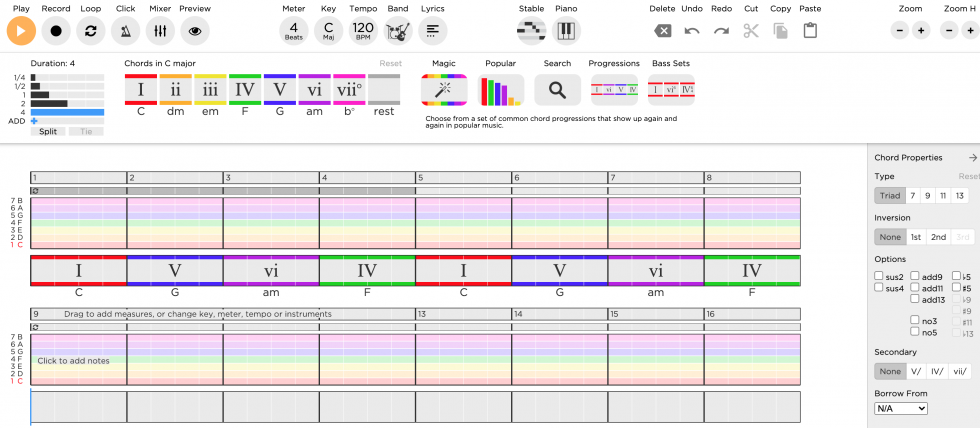 To create a melody, click on the melody regions and type in the number 1-7 and click and drag with the mouse to move or change the duration. (Press [Shift + drag] to move the note up and down)
There are so many other features to play around with and learn as you start working with Hookpad, but the melody and chord creation is the core and should set you up to start making some amazing music. I would really recommend you reading through the user guide as it has a lot of information about all the options and how to setup Hookpad. Read the user guide here.
Things I liked
There are a lot of things that I liked about Hookpad. I was actually introduced to Hookpad through finding Theorytab to help me understand some music theory, and as I dove deeper I really became impressed with the entire Hooktheory platform. It has everything a beginner songwriter needs from being able to analyze hit songs in Theorytab and learning more about music theory from the Hooktheory books, to actually sketching out musical ideas in Hookpad. it has everything on your journey to becoming a better musician and songwriter.
Here are some other things that I liked:
Being able to create a chord progression in minutes or less.
The wide variety of virtual instruments to give inspiration
Being able to quickly export the MIDI to my DAW
Very intuitive software even though it is browser-based. Things such as copy & paste, delete, shortcuts work which makes for a nice workflow when using it.
Things I didn't Like
As you can probably tell, I really ended up liking using Hookpad. Instead of opening my DAW, Hookpad has become my go-to when I want to experiment with new musical ideas. However, there are some things that some people not quite like.
It can be a little expensive to purchase the full version of Hookpad. Update: They now offer a very affordable subscription option.
Pricing
Hookpad basic is absolutely free and it provides enough options for beginners and more advanced songwriters, but has some limitations that once you learn and process you will want to have.
The good thing is that Hookpad provides affordable payment options. Hookpad has 3 pricing tiers, which makes it accessible for everyone.
One-time Purchase: $149
Yearly Subscription: $49
Monthly Subscription: $4.99
Conclusion
Hookpad is the best songwriting software that focuses on helping you create a great foundation for your song – the melody and chord progression.
The Hooktheory Books and Theorytab will give you enough training and learning to take you to the next level.
It is one of my most recommended software programs to songwriters, musicians, and producers. And the best thing is you can try it out right now! (for tree)