With your instrument in hand with a pen and paper next to you, writing down what comes out has been the best way to record your song ideas. And while I do still think that sitting down with your instrument with nothing but a pen and paper, with no distractions, is one of the purest ways to write songs. It does have some downsides that you probably already know from experience.
It is difficult to stay organized and often those ideas disappear from your head before you can even write them down.
These days, there are numerous kinds of songwriting software to cater to the needs of songwriters and help them write better songs, quicker and say organized.
So whether you just want to sketch out some musical ideas or create some lead sheets to share, you will find some useful information here.
In this post, I hope to show you what some of the best songwriting software and tools have to ofter you. So that you can improve your songwriting workflow and write better songs quicker. Let's get right to it!
What is the best songwriting software?
HookPad is the best songwriting software for creating great chord progressions and enticing melodies.
Guitar Pro is the best songwriting software for guitarists and is the easiest to use no matter your primary songwriting instrument.
Songcraft is the best songwriting software to collaborate, record ideas, and create lead sheets on the go with their web-based app.
Why You should use songwriting software
You might be wondering to your self why do you even need to use software to help you write songs. There are many reasons why.
Stay Organized. Every songwriter has experienced losing an idea. It can be a horrible feeling because that idea was your best yet, right? Using songwriting software lets you have a library where you can store your ideas. Sketch out your musical ideas on paper, then bring it into your software of choice and save it.
Break Down Your Favorite Songs. There are most likely MIDI versions of your favorite songs that you can import and musically analyze. Why does this part sound so interesting? You can deconstruct your favorite songs and see the building blocks.
Create Accompaniments. You can easily create accompaniments that will let you jam to your latest creation.
The 5 Best Songwriting Software Programs
HookPad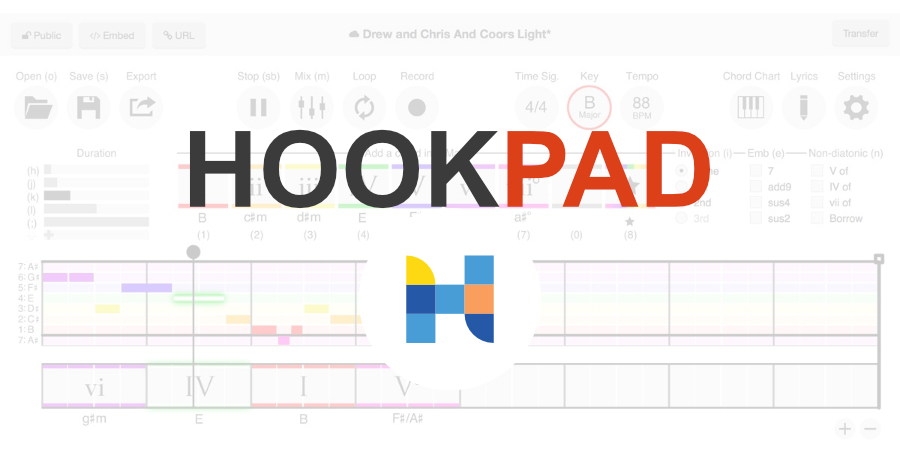 Hookpad is a web-based software that will allow you to create melodies and chord progression more easily and faster than ever before.
It is the brain-child of 3 UC Berkeley engineers, Chris Anderson, Ryan Miyakawa, and Dave Carlton, all of whom have a huge passion for music and hope to share their knowledge through this innovative new software.
What makes it Unique?
The first thing you will notice about Hookpad is that it doesn't use standard music notation. Now, some music purists might scoff at the idea of not using standard music notation, but with the system it uses, it makes it easily accessible and intuitive for beginners to advanced and everyone in between.
Chord Palette & Magic Chord
So Many people get stuck on choosing the right chord progression when writing a song. And unless you know an extensive amount of music theory, it can be hard to logically choose chords that sound good together.
For me, it is usually a series of trial and error when working on a chord progression, but with HookPad's Chord Palette you get a list of chords that work well together in a particular key.
There is also Magic Chord. These are chord suggestions that you can use when you are stuck. They are backed by a database of over 13,000 songs that the people behind have analyzed. You can check out their database of tabs at HookTheory.
Other Bonuses
HookTheory Books. This a free added bonus when you purchase Hookpad (originally about $15). But this is the best music theory book for modern musicians that do not have traditional training. It teaches you how to make chord progressions and harmony in a way that is easy to understand.

Interactive examples (No other music theory book has this)
No notation — just scale degrees and roman numerals

TheoryTab – This is a user-created database of thousands of commercial songs that uses the HookPad platform. Here you can see and hear the chord progression and melody along sing the original recording of the song.
Pros
Chord and Melody suggestions based on the research of modern music
Easy to use without having to use notation
Cons
There is a wide variety of sounds, but you can't import or create custom sounds.
Final Thoughts
I found using HookPad to be very intuitive. While I do have knowledge of music notation and how to use it. It would always be a barrier to convert my idea into notation and input it on the staff.
I am also able to easily analyze thousands of other songs and get ideas or inspiration from them instantly, which has helped me break out of my normal songwriting habits.
All of the core features of the program are great and can really help you stay inspired to create some great music, but the only thing I found lacking was the sound sets.
RECOMMENDED FOR: This is the best for creating and sketch out some musical ideas into songs. Also, if you struggle with your working music theory knowledge that will not be a problem with this program. You can also read my complete Hookpad Review here.
Finale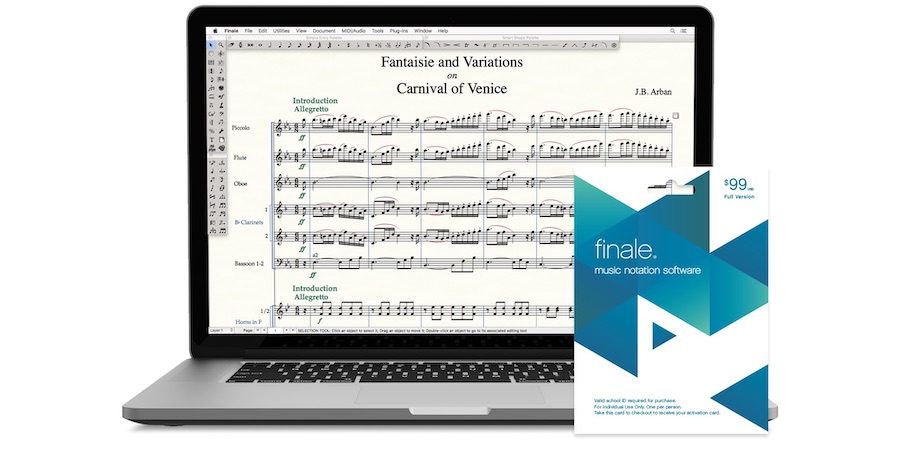 Creating sheet music or composing in musician notion for the modern songwriter is not common, but you have probably heard of Finale, which has been one of the longest-running industry standards for music notation. It was developed by MakeMusic way back in 1988–making it one of the first programs for music notation.
You will see composers, songwriters, and songwriters of all levels using this software to create sheet music. It is commonly used in classical and traditional music scenes that primarily rely on using music notation such as film scoring, orchestra, and composers. It doesn't have a very strong presence in the DIY and indie music scene due to the cost and the learning curve of using it.
Finale has a steep starting price at $600, but they provide large discounts for students and other academic uses. There are other versions that have some limitations, but are much cheaper and even FREE.
Finale Print Music
Finale NOTEPAD
If you are interested in Finale, they have a free trial for 60-days, which will give you plenty of some to learn some of the core features of this powerful music notation software.
What Makes It Unique?
This program has been around for so long that is jam-packed with requested features from professional composers and musicians around the world. There is only 1 other software that is as robust as Finale, which is Silibieus.
Total Control
With it being the most robust music notation software, you have access to hundreds of expressions and participation for your notation.
Virtual Instruments
It comes preloaded with a vast library of sounds by Garritan that sound realistic and will help inspire you. On top of that, you can use 3rd-party sample libraries to expand it even further.
Final Thoughts
As one of the most powerful music notation programs, Finale is the choice of many music industry professionals. It has been in development for over 30 years so you can bet that it is a full-fleshed out program that will allow you to have complete control over how the music sounds.
With that amount of control and power, Finale can have a very steep learning curve, which can deter beginners and hobbyists.
Pros
Large library of sound samples to use or orchestration
Human Playback
Cons
Expensive
Steep learning curve to use the software
RECOMMENDED FOR: People looking to go into the professional music industry as a composer, songwriter, or arranger. This isn't a good fit for most bands or modern producers.
Guitar Pro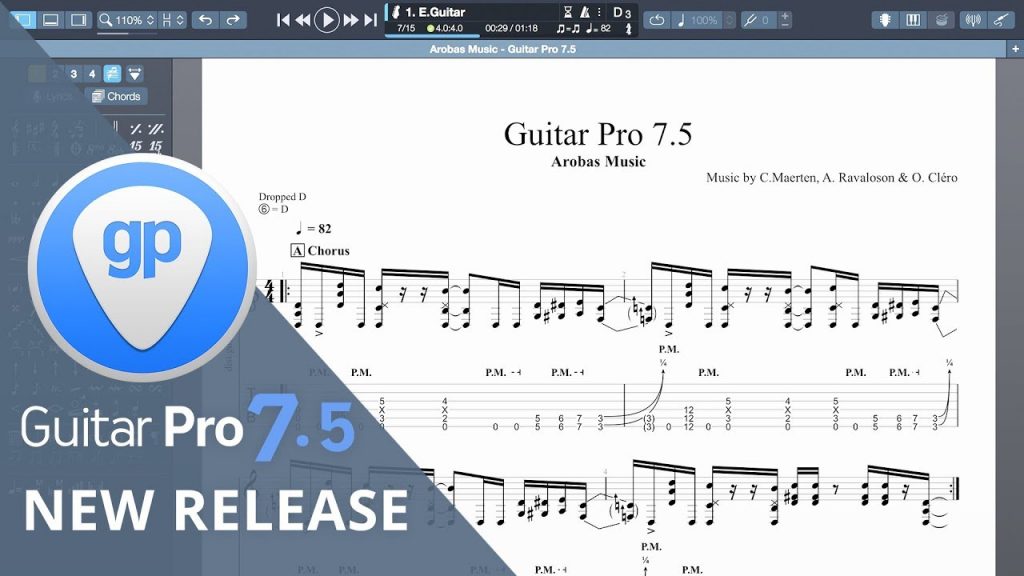 Are you a guitarist? Then you have probably heard of or used Guitar Pro when you were trying to find tabs for that song you wanted to learn.
Guitar Pro is a powerful tool for musicians and songwriters who primarily use a fretted instrument and even if you don't use a guitar or other instrument, it can work for you.
In the past, it started as a guitar tab editor and over the years, it has turned into a powerful tool for songwriters to create full arrangement demos of their songs.
What makes it Unique
Because its core user-base is guitarists or other fretted instrument players, they have a very streamlined tablature editing system. This makes it very quick for songwriters to get down ideas. Not only that, but Guitar Pro lets you compose your songs in your preferred notation. You can display the tablature notation to make it easier to read for a guitarist or use standard notation to play the score for the piano, drum, brass, or strings. Or simply use slash notation to read the rhythmic pattern of the chord charts.
Multitrack Scores
With Guitar Pro, you can take your song as far as you want. You can simply flesh out the main idea with a chord chart and lyrics, or you can fully arrange a demo using the multitrack scoring feature.
You have the choice of adding many instruments to build out the arrangement of your song using the RSE (Realistic Sound Engine) instruments. While the sounds don't totally live up to the word realistic, it is much better than general midi sounds and allows you to hear a good representation of the song you are creating.
Composition Tools
Chords. You can check all possible chord positions on the fretboard allowing you to find unique fingerings
Scales. You can listen to and view scales in the scale dictionary. You can display this scale on the virtual instrument to help you compose your melody.
Lyrics. YOu can enter the lyrics of your song and arrange them with ease.
Virtual Instrument. You can enter notes from a virtual representation of your instrument without having to rely on standard music notation or tablature.
Final Thoughts
Pros
Much easier than writing the song out on paper
Multiple notation options
A large number of various instrumentation
Cons
Realistic Sound Engine doesn't always sound as good as claimed
Doesn't support plugins such as VST
Notating drums parts is difficult
You DAW [Digital Audio Workstation]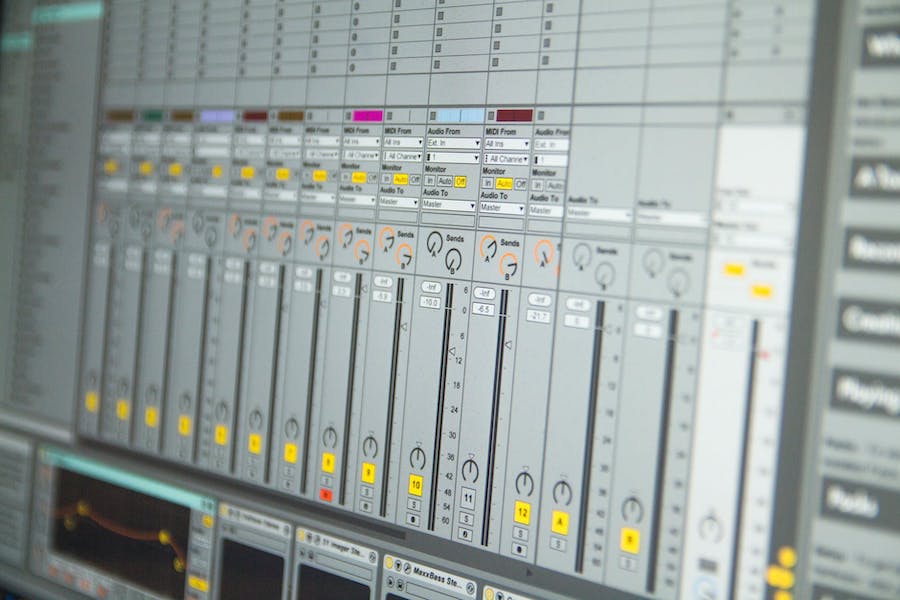 The DAW that you currently use can also be one of the best or worst tools to help you with your songwriting process. Also, each DAW will have its own strengths and weak points. Don't worry, there are many things you can do to help you improve your songwriting process and not get distracted by all of the possibilities of working in your DAW.
So no matter if you are using Logic, Ableton, Pro Tools, Cubase, Studio One, or one of the many others, you can make the songwriting process a smooth process.
What makes it Unique
Compared to many of the other notation software, writing music in your DAW of choice is the least limiting and gives you many options. You can take your song from a simple musical idea to fully produced track ready for release. That is the power of your DAW, but there is a dark side. With so many options you can easily become stuck or waste time.
Imagine you are making progress with your song and you start working on the melody, but you get sucked down a rabbit-hole of finding the perfect sound (if you are working with synths or virtual instruments).
Which is why you should use templates.
Templates
Templates are a very powerful workflow tool in almost any field. So it would be only natural that templates can help with the songwriting process. Most DAWs allow you to create templates of certain workflows that you commonly use.
How much would you hate it every time you wanted to write a song you would have to create a new track, route it correctly, load a virtual instrument plugin, plus a whole number of other steps necessary to start a new session in your DAW. You do these same steps every time. With a template, you only have to do it once and you can immediately start writing.
Creating a songwriting template with all the instruments all set up and arranged how you like is very powerful and can save you a massive amount of time in the long-run. While it might take some time to create and plan out how to want to arrange your template, the benefits to your workflow, and even motivation, will be huge.
3rd Party Plugins
In your DAW you are not limited by the sounds of a certain notation software. Some people find those sounds uninspiring, which can lead to them creating uninspired music. When you have the freedom to choose new interesting sounds, it can lead you to new and exciting choices in your music.
Final Thoughts
While your DAW can be a great tool for songwriting, there are things you have to watch out for or it will be a huge time suck — distraction. It is very easy to become distracted with all the options you have when working in your DAW. Songwriting, production, arranging, and mixing are all things you can accident start doing if you don't limit yourself and focus on the task at hand. This is where the template comes in and gives you the ability to concentrate on songwriting.
Pros
Create your own songwriting workflow with templates
Cons
Many options make it easy to get distracted
Songcraft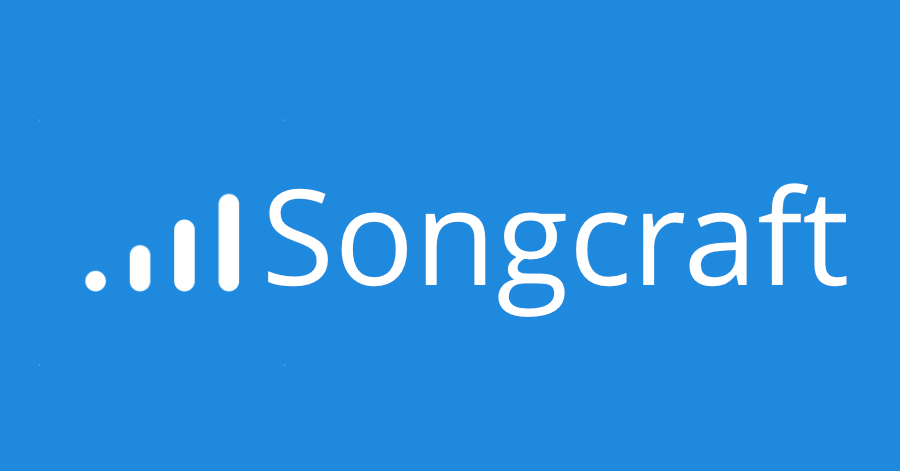 One of the latest songwriting tools that embraces the use of the cloud to create a collaborative platform for songwriters is Songcraft. It combines the usefulness of a shared document with an incredible toolbox of songwriting tools that are accessible from your browser on a mobile device or computer, which makes it the perfect songwriting software for songwriters on the go.
What makes it Unique
Songcraft has such a simple interface, but it has a lot of features to offer from your web browser. This is a tool directly to help frustrated songwriters wrestling with multiple tools to get their ideas out of their head and paper, or digital data in this case. This is the perfect solution for songwriters that want to build chord sheets and tabs with the ability to switch between chords, lyrics, and melodies with their drag-and-drop- editor.
Collaboration
Songwriting is rarely a solo endeavor these days. Just take a look at the number of songwriters on and modern pop record or any songs coming out of Nashville — you will have half a dozen songwriters. Songcraft allows you to share your project with people that you invite to your song. You will be able to collaborate in real-time other songwriters in your own online songwriting session.
Songwriter's Toolbox
Chord Explorer. This lets you select the scale and get a visual layout of the chords in the scale (triad and seventh) along with suggestions for borrowed chords you can you. The chords are then able to be dragged and dropped over your lyrics, creating a seamless process.
Progression Generator. Simply type in the key of the song and press generate. This will create a chord progression based on music theory analysis.
Lyrics. Getting the lyrics down has never been easier. You have access to a rhyming dictionary, synonyms, related words, and similar-sounding words, all of which are just a single click away.
Recording. Just think about this as your phone's voice memo on steroids. Since it is located right in the app you don't have to mess around with switching devices if you want to quickly record an idea before it disappears.
Final Thoughts
Unlike most of the songwriting software mentioned which mostly focuses on notation such as Finale, this program is focused on the needs of modern songwriters that need a quick solution to get their ideas down. The collaboration features are just icing on the cake at this point.
Pros
Create collaboration tools
Feels intuitive for songwriters
Since it is a web app, you can take anywhere and it works on most devices
Cons
Some UI improvements would help with workflow (delete & better drag and drop features)
Overall Thoughts
There are many options that songwriters can use to help them streamline their songwriting process and assist them to create better ideas. I hope this post helped you find decide which one might be the best for you.
Let me know what you think of these options in the comments!