Have you been looking for way to learn piano through your phone? Then you probably have probably searched through you app store and have seen the app Simply Piano.
Simply Piano is a piano learning app created by JoyTunes.
I have always been skeptical of gamified learning apps from my attempts at learning other topics. I'll discuss how it works for learning piano near the end.
Simply Piano has won many awards and has been featured in Forbes, TechCrunch, and The New York Times. They say that it is used by over a million people every week.
Let's get into this Simply Piano review and see if this piano learning app is the right fit for your piano learning goals.
Getting Started
Unlike some of the other piano learning programs and apps I have used such as Flowkey, You have to use this on your phone or tablet. It will not work with computers. I found this a little inconvenient.
Personally, I would recommend a tablet since it will be easier to see the notes as they pass by.
The next thing you will probably need is, you guessed it, a piano or keyboard. The great thing about using Simply Piano is that you can use any kind of piano such as a digital piano, acoustic piano, or a keyboard. It is important to note that to get the best experience of learning to play piano, you should use an instrument with 88 weighted keys.
Once you get the app installed, you will be guided through a series of questions about how you will be practicing – piano or keyboard.
NOTE: If you use a keyboard, you can connect it via a USB to MIDI cable. This is more accurate than relying on the note recognition algorithm they use.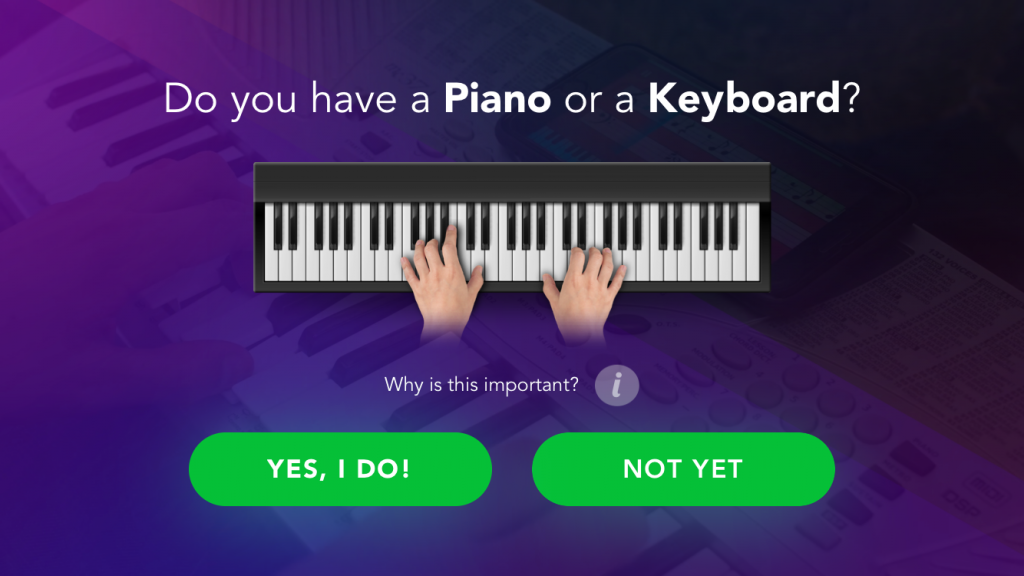 After that, it will ask you about your experience level and what your goals are with piano.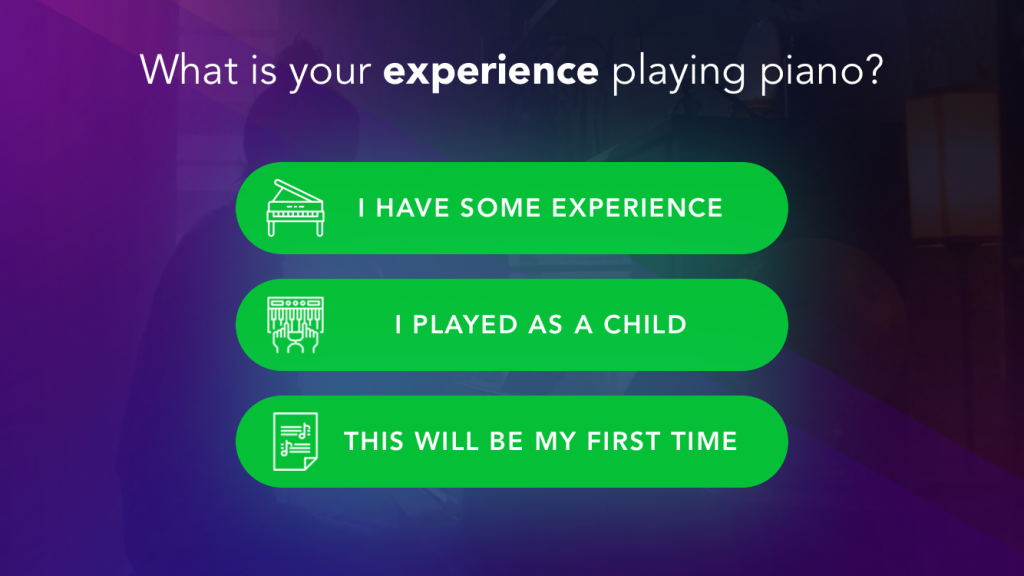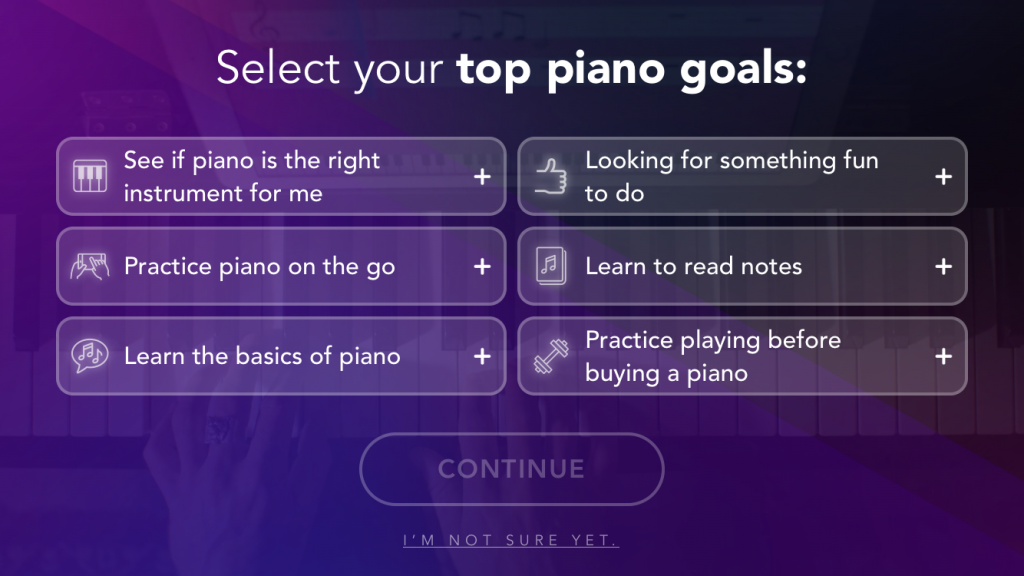 Then you are set to create your account and profile. You will be given a 7-day free trial so you have enough time to try it out before you pay for the subscription.
HOWEVER, you do need to make sure to change your subscription within your app store to either cancel before the end of the trial or change the subscription option. It defaults to the 1-year subscription option that is over $100 dollars. So if you mess the trial deadline, you will be paying for a year of Simply Piano. I don't like this business practice, but you can easily cancel it immediately after starting your trial so you don't have to worry about forgetting.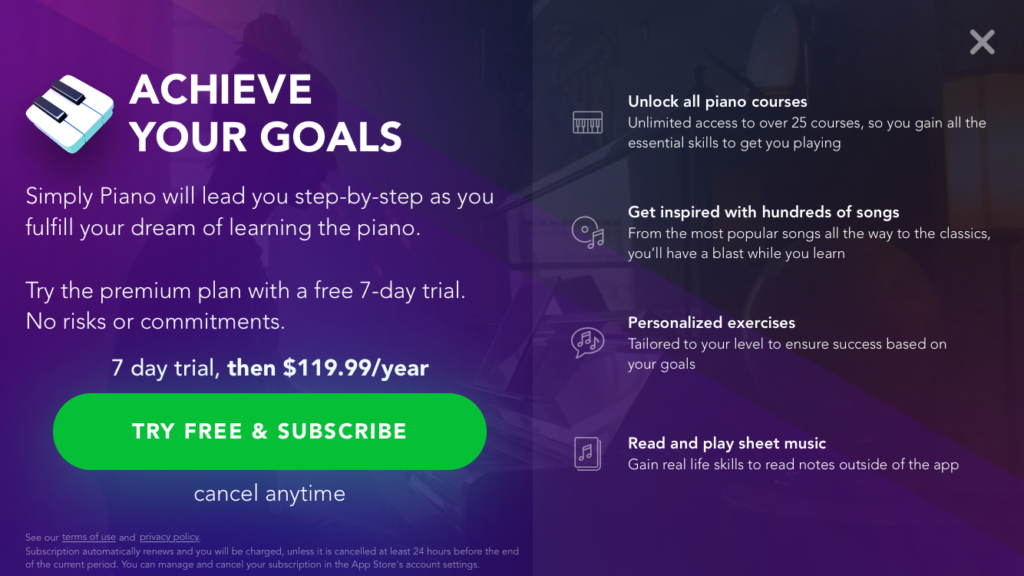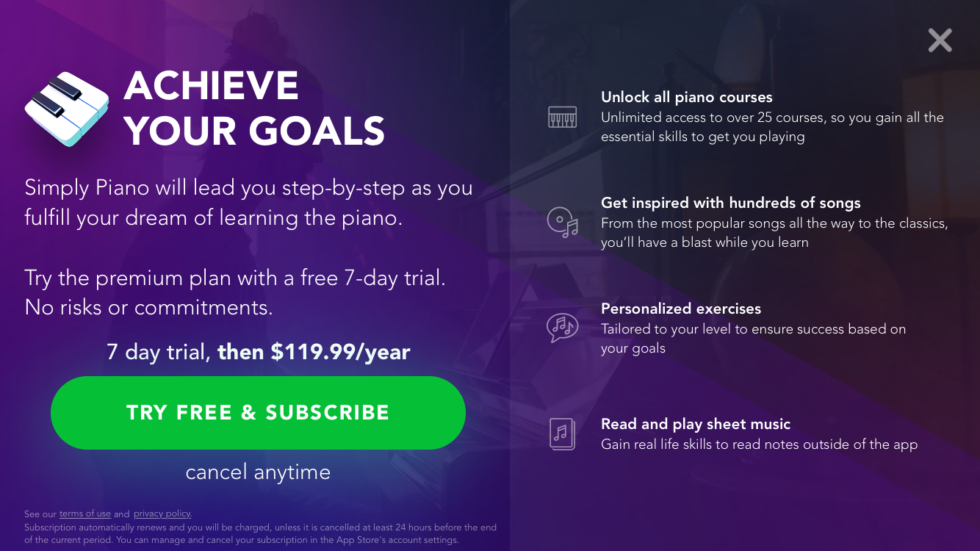 How Simply Piano Works
Simply Piano is a stand-alone app on your tablet or phone that uses sound recognition to listen to the notes that you play when doing the exercises in the app. Alternatively, you can use a MIDI to USB connection to have a more accurate experience as some times the note recognition messes up a bit with octaves and multiple notes.
When actually using the app to learn, you will be guided through a series of courses and lessons. Everything is very linear so it caters very well to beginners. You don't have to guess or feel overwhelmed with options.
It takes you down through its curriculum teaching the basics and techniques through songs mainly. This is one of the factors that I found made it more fun to use and had me practicing longer.
The Exercises
The vast majority of the exercises are you reading and playing the notes that you see. When you are in the beginning stages of a lesson, they will be static so there isn't any timing factor playing into it.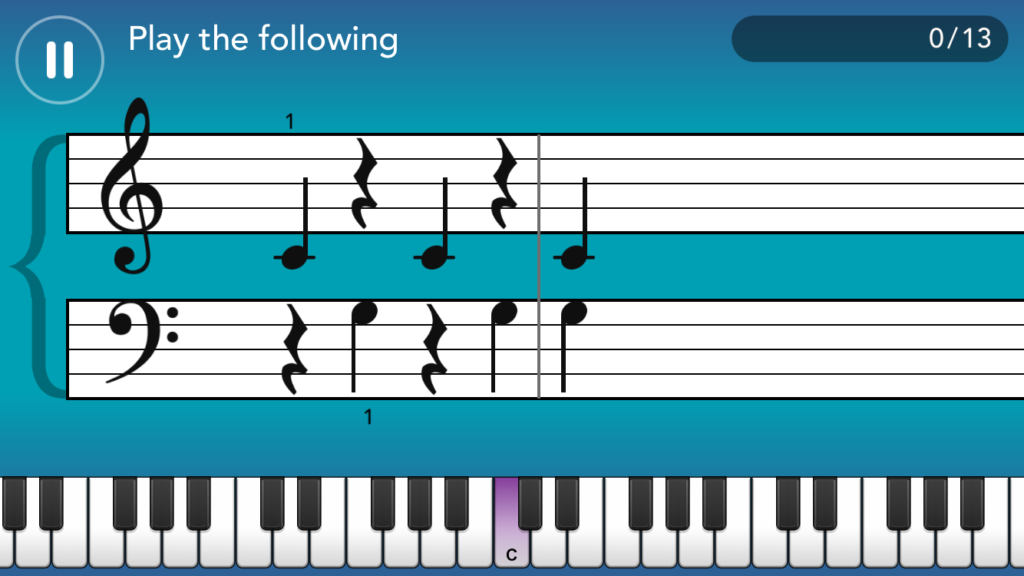 These exercises are also small sections of a song that you building up too.
Near the end of the lesson, they will start to put these pieces together and put it to music. This means you will need to start playing it in time. If you make too many mistakes, it will start you back a few bars until you are able to get it right.
Every 1 or 2 lessons, there is a new song to play along too and learn.
I found the lessons to be pretty engaging and it is worthwhile if you hope to eventually be able to read sheet music.
Simply Piano has a very linear teaching method that I found useful to help guide me through the holes of my piano playing knowledge. Let's get into what exactly is included in the learning app.
What Is Included
Their main curriculum is on a linear path, but outside of those, there are some extras that they provide to help make your learning easier. Let's take a look.
Courses
Simply piano has 28 courses that are split between two paths in their curriculum – Soloist and Chords. I will be going more in-depth about the differences farther down in the article.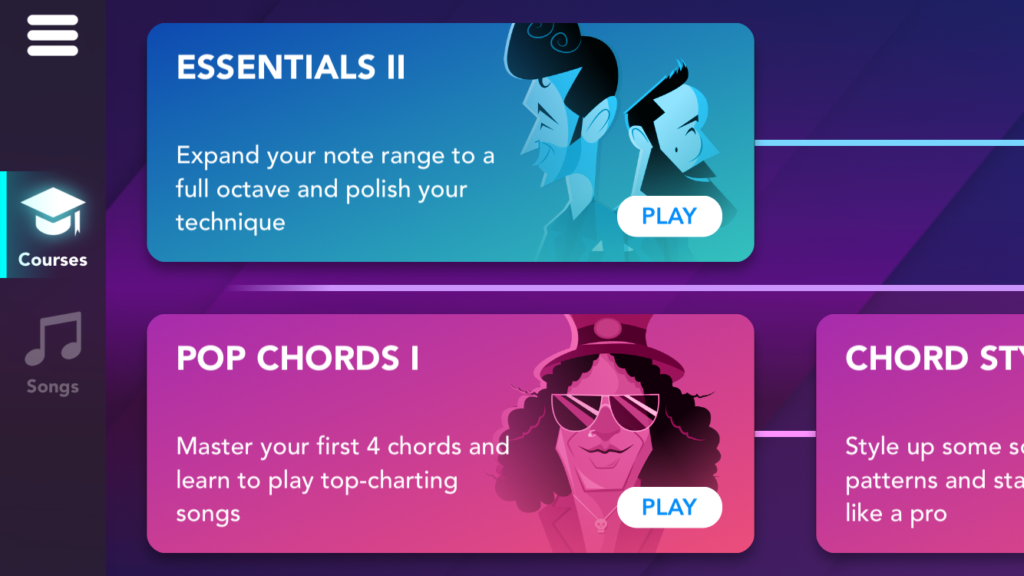 Each course has about 12 lessons at that about 10 to 15 minutes each. About 5 of these lessons are learning to play along with songs. and between the songs, it teaches a new concept or technique.
In the lessons that teach something new, you are taken through about sub-lessons with their own set of exercises that will help practice that concept. For example, in the "Pop Chords I" Course, one of the lessons introduces the C and G chords. Once you click on that you will be taken to the lessons sub-sections.
C Major Intro
Practice C Major
G Major Intro
Practice G Major
Song (Love Me Do)
Song (You Are My Sunshine)
Each of these lesson sub-sections consists of about 8-12 exercises and usually, the final exercise has you play along with some music.
I was surprised at how much it drilled in the new chords with the different exercises. It started simple at first with getting the fingering right, and then moved on to alternating between previously learned chords.
This is something I have done in the past when learning through books, but would generally get bored and stop doing these exercises to get them in my muscle memory. However, with the app guiding you through these exercises and having the feeling of making process really made these exercises valuable and fun.
Songs
The song library has a great selection of music from pop to classical. The vast majority would be in the pop music realm.
It breaks the songs down into levels and unlocks them as you gradually as you progress through the course. They aren't actually locked, but it just gives a little warning that you might not be ready for this song yet.
All of the songs are split up into sections like intro, verse, and chorus. There is also a whole song option. It is very much like the exercises in the course. You learn a few bars at a time using various exercises and then finally you play sections with a backing track.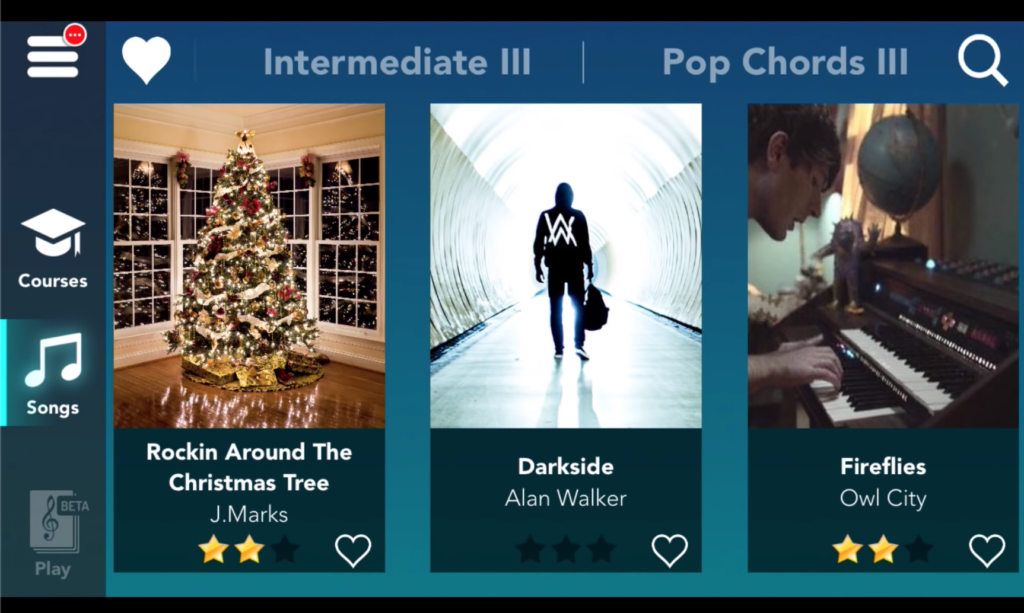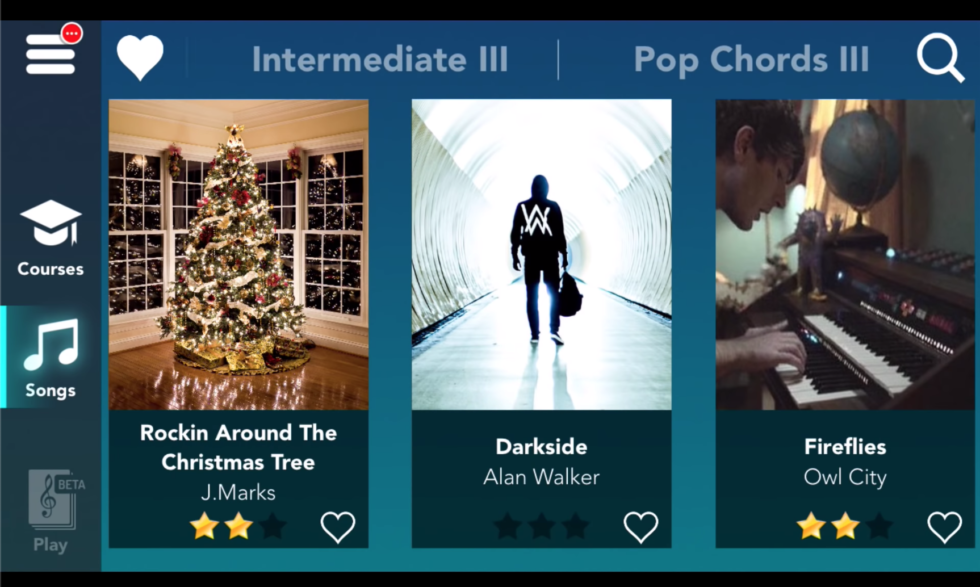 When you do the play full song option, Simply Piano gives you some feedback on how well you played it – rating you on accuracy, timing,
***
5-minutes workouts
Don't have enough time for a lesson, but want to get a little practice in? These workouts are designed to help you develop your skills outside of the courses. These exercises generally over things such as:
Sight-reading
Chord changes
Rhythm patterns
This is also a great way to simply review the concepts that you learned in the courses as it is difficult to go back and find exactly where you learned in the course menu area. If there is anything you are still feeling weak on, you can check out these workouts to help you get them in your fingers.
Sheet Music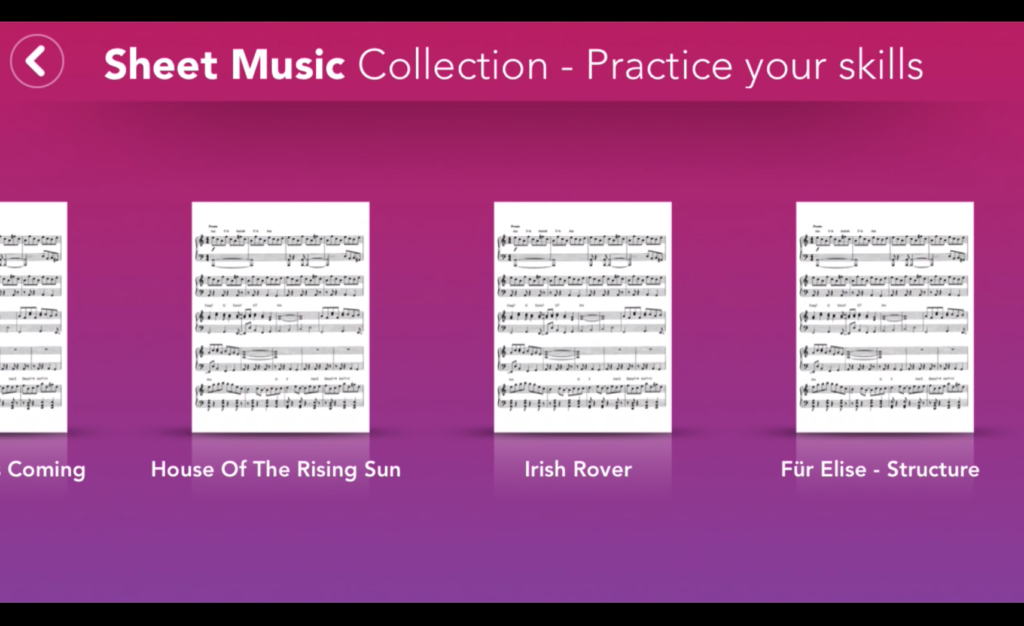 This was pretty unique as I haven't seen any other piano learning app offer printable sheet music. As you progress through the courses, you will gradually be given access to more and more sheet music of the songs you have encountered. They don't give the sheet music to everything in the course as I am sure there could some issues with giving out the sheet music on some songs.
Curriculum
The core curriculum is split into two paths as I mentioned before, but before it gets there, there are two foundation courses created to give students and complete beginners a little introduction,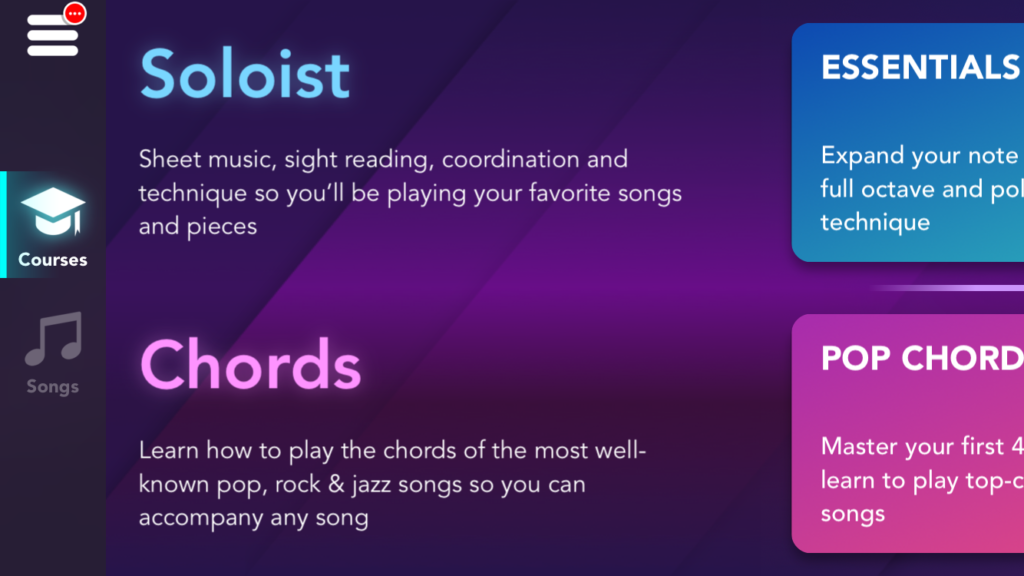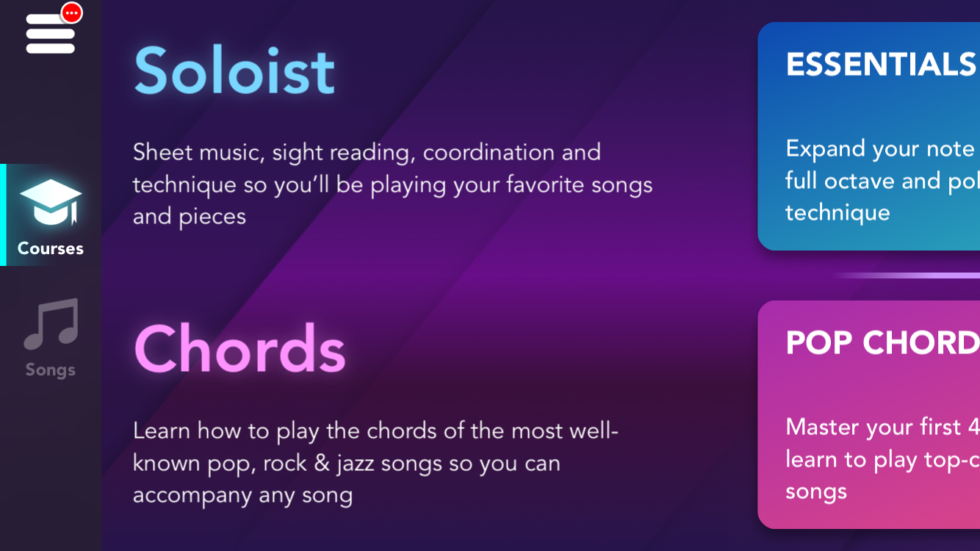 The courses "Piano Basics" and Essentials I" teach you the notes, finger positions, basic rhythms, and some easy chords, as well as using both hands. Keep in mind these simply introduce you to this concepts and we will be built on in the later courses.
Soloist
The soloist path is created to teach you sight-reading, finger coordination, technique, positioning, and sheet music so that you can play your favorite songs and pieces (classical).
Here is a quick synopsis of the soloist track courses
Essentials II – Expand your knowledge of the notes to a full octave and learn a few techniques related to positioning. The final song is Over The Rainbow.
Essentials III – This introduces to you using the black keys in the form of accidental. Learn to play over 2 octaves and practicing your first scale, the C scale. The final song is the Titanic theme song.
Classical I (Optional) – This has some videos explaining the various periods and styles of classical music. Then goes on to teach some simplified versions of pieces from those periods.
Intermediate I – This starts to introduce more difficult rhythms with syncopation and switch hand positions. The final song is the Games of Thrones theme.
Intermediate II – This course introduces ties in sheet music and the new rhythms they produce as well as some more hand positions to play higher octave notes. The final song is "I Knew You Were Trouble" by Taylor Swift
Intermediate III – This course is all about expanding the different positions you have been learning. The final song is "Killing Me Softly"
Intermediate IV – This teaches you some new positions, G position. You are also introduced to new scales, the D and G Major scale. The final song is "Lithium" by Nirvana
Bohemian Rhapsody – This next course focuses entirely on playing this song in its entirety. You will learn all its parts – the intro, ballad, opera, rock, and outro sections.
Taste of Bach I & II (Optional) – This course introduces the Baroque era and Bach. You learn a well-known Bach minuet
Pre-Advanced I – You are finally introduced to 16th notes and key signatures at the second to last course of the curriculum. It just teaches the D and F major key signatures. The final song is "Bolero" by M. Ravel.
The Entertainer (Optional) – This is another song based course. It starts with a video introducing the song and giving it context then you go into the course to learn the parts of the song.
Chords
Pop Chords I – This introduces the chords C/D/G Major and E minor using songs such as Knocking On Heaven's Door. It also teaches using the left hand as the bass. The final song is "Say Something"
Chord Styling I – This shows you how to play the chords that you have learned in a different style. The style this course introduces is soft rock through songs such as "Imagine". The final song is "I Don't Wanna Miss A Thing"
Pop Chords II – You are taught 2 more chords, F Major and D minor. The final song is "Heal The World" by Michael Jackson
Chord Styling II – This course teaches you rock and ballad styles for piano
Chord Styling III – You learn some techniques for your left hand with alternativing bass and you expand your styles with learning some Ballad styles. The final song is "Love Me Like You Do".
Pop Chords III – You will learn the E and A Major and B minor chords. The final song is "Don't Speak" by No Doubt.
Blues Chords I – This course introduces a lot of new concepts. You will be introduced to swing rhythm and the 12-bar blues. You will also learn your first 7th chords. The final song is "Johnny B. Goode" by Chuck Berry.
Jazz Chords I – You will get a taste of jazz piano with this course. You will be introduced to the essential jazz 2-5-1 chord progression. You are also taught many more 7th chords to add to your chord knowledge. The final song is "Fly Me To The Moon" by Frank Sinatra
Jazz Chord II – Even more jazz! You will learn some more chords progressions essential to jazz and 7th chords. The final song is "Take Five" by Dave Brubeck.
Slash Chords – You will take your knowledge even further with slash chords and inversions. This will make your progressions sound more natural. The final song is "Against All Odds" by Phil Collins.
There are three more courses that happen when the two curriculum path cross each other. These are the "Lead Sheet" courses. They incorporate both elements of the soloist and chord courses and combine them so that you are playing a melody over some chords.
Simple Piano Strengths
I think Simply Piano has a lot going for it in terms of how the interface is setup and the curicculum. I feel this really caters to who may really be complete beginners.
The pacing is very slow and this could either be considered good or bad depending on who the person is. I think someone with some experience with piano from when there were a kid might find this pretty slow. However, it could be very beneficial for those people for a few reasons as well.
It has a lot of drills that whill make you practice chords, and sight read from the beginning. From the start, you will have countless drills of chord changes and sight reading. And since this is an interactive app, you have a sense of progression so it doesn't get boring.
I couldn't imagine myself doing as much practicing with drilling in new chords and practicing changing between chords with out these exercises in the lessons. Just following the lessons makes it so much simplier.
Another great thing was how it has a pretty extensive review of the previous lesson when you start a new lesson. This helps you retain previously learned material and really ingrains it into your mind and muscle memory. So even if you do take a short break and possibily forget some of the previous lessons, you can start a new lesson with the peace of mind that it's going to have a lesson recap for you.
So in short here are a few of the strength that Simply Piano has:
Plenty of non-boring exercises to help drill in new chords and practice sight-reading
Lesson reviews at the start of each new lesson.
Linear curriculum that makes progress through the material easy.
Gamification makes it easy to put in a lot of practice time.
Most of the lessons are based around progressing to the next song and incorporates a lot of backing tracks to place along with.
Simply Piano Weaknesses
One of the first things that I notice was the note recognition system would be a little wonky at times. Once I started to use both hands and or played chords, it would recognize the wrong octave or it would wouldn't catch all of the notes.
There an easy way to solve this problem and it is to purchase a USB adapter for you phone or tablet.
Here is one for Apple Phones
Here is one for Andriod Phones.
While the program is very interactive, it doesn't have a very great system for playing in rhythm or learning timing. For a complete beginner this makes it easy, but it can definitely handicap you later when you have to start playing in correct time with other people. It also doesn't really explain the music notation from what I saw.
I may have accidently skipped over it, but I don't think it ever explained what rests are, but from the very first song play along it incorporates a lot of rests and various note lengths. It doesn't explain these.
The pacing of the curriculum is very slow, which would be good and bad, but a lot of fundamental theory and basic knowledge that you should learn are found at the final stages of the curriculum, which they say would take up to 2 years to complete.
Here is a quick rundown of the things I felt were weak with Simply Piano:
Moves too slow.
Doesn't teach much music theory. While it uses the staff and the correct notation, it doesn't go in enough depth to make you feel very comfortable when you try to switch to real sheet music. It doesn't explain key signatures until very late and there isn't anything about repeats and codas. You will have to learn these on your own.
Note Recognition. The built-in note recognition system isn't that great. It is best to have a USB connector.
Will You Learn Piano with Simply Piano?
In my opinion, yes, you will learn the piano with this app, but only to a certain extent. The material is paced very slow so the amount of knowledge of how the actual piano works or music theory is very lacking. The exercises and gamification are where it excels with helping you feel motivated to play, especially for children.
So I would recommend this to total beginners that might have some fears or avoid taking the plunge into learning an instrument. This app can definitely help you overcome those fears and give you the feeling that you are learning and playing the piano.
Simply Piano really seems targeted to younger ages with their color designs and UI, but adults can find it just as useful. Furthermore, the songs in the courses and the song library are suited for people of all ages.
But,
I wouldn't solely base my learning around Simply Piano. It does a great job at motivating you to practice and play, but it doesn't go into detail about many important aspects that you will find in many books such as the Alfred Adult Piano Courses and other similar books or courses.
Simply Piano Pricing and Subscription
I'll be honest. Simply Piano's pricing and subscription method really annoy me.
They don't have a monthly plan. You have to purchase it in either 3-month, 6-month, or annual subscription plans. All of which are over-priced in my opinion. Of all of the piano learning apps, Simply Piano is one of the more expensive ones.
They do offer a 7-day free trial, but be warned if you do not cancel within those 7-days, you will be charged for a full year of Simply Piano because they default their subscription plan to the annual option, which is over $100.
I have read about a few people being caught off guard by this simply because they forget to cancel the subscription.
NOTE: You can't cancel the subscription within the app. You have to do it from your account settings in the app store.
Simply Piano Pricing:
A 3-month recurring subscription for $59.99
A 6-month recurring subscription for $89.99
An annual recurring subscription for $119.99
Final Thoughts
Simply Piano is a good app all around for learning piano especially for complete beginners or younger learners. This is due to the fact that it is extremely linear and gives you a step-by-step guided practice.
I do feel like this will eventually become a handicap when you do move on from Simply Piano that is why I don't give it a better recommendation. So if you want to learn piano, but have some difficulty with discipline and sitting down to practice I think this will help you set a routine and gain some confidence so that you can move to more comprehensive piano courses.
I would also recommend checking out these other articles that have courses that I wholeheartedly recommend,
What are your thoughts on Simply Piano?