In the past few years, these instrument learning apps have really started to change how people are learning instruments. While they don't have all of the benefits of in-person lessons taught from a teacher that can adapt with you, learning from an App is a way for people who don't have the time because of work or children to visit a piano instructor every week.
Here is my top list of applications and online piano courses that will get you playing piano faster.
Best Piano Learning Apps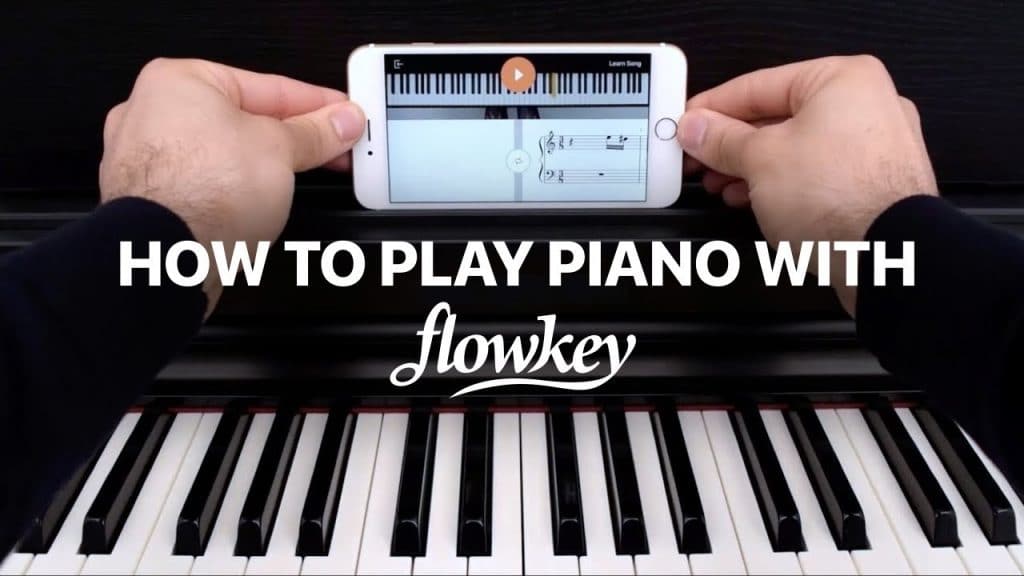 Flowkey
System requirements: PC, Mac, iOS, Android | Free option: Yes | MIDI compatible: Yes
Flowkey has become one of the leaders in the online education spaces for learning the piano. It was founded by then-stuents Jonas Gößling, Alexander Heesling and Ahmed Hassan. Flowkey has has now partnered with Yamaha, which means a lot when an App like this gets such a major sponsor — this means they know what they are doing.
Unlike other other piano apps, flowkey is has pretty universal device compatibility. You can use on the web on your computer for via the app — You can take your learning anywhere. Flowkey will pick up notes heard from acoustic pianos through your devices microphone or you can plug in your piano va MIDI if you are using a digital piano.
When you first signup for Flowkey, you will jump into a few introductory couses, they teach things such as hand positition. But this isn't the strength of the program. The main focus is get you to learn to play your favorite songs, and they have a huge library of songs to select from in many genres ranging from Pop music, Game Music, Rock, Rock, and more. This make it great for expanding your repertiore if you are an intermediate player. Also, you never have to worry about how much progress you have made in a song if you jump around learning multiple songs (Flowkey tracks everything for you). While the focus is on learning songs, there are some courses on basic music theory and scales.
The interface is optizmized to help you to learn songs faster by offer multiple play modes and a split screen view. You can slow down the song to various percentages of the original speed, or speed it up. A unique play mode is wait mode where it wait for you to play a note before proceeded. This is excellent to help you will the first few play throughs. You can even highlight areas to practice it on repeat. All lessons are in split view with a video of an real person playing the song in sync with the sheet music you are playing — this is unique to Flowkey and is a major benefit.
Prices and Plans
When you first sign up to Flowkey, you are on the free membership. This gives you access to the curriculum on a limited basis.
Access to "Introduction to the Piano, and a limited number of lessons in the other courses.
Access to 10 free songs such as "Amazing Grace" and "Hallelujah"
With Flowkey Premium, you can unlock:
All of the courses that cover chords, intermediate piano, and music theory.
You gain access to the ever-expanding library of songs ranging though a multitude of genres.
Here are the subscription plans: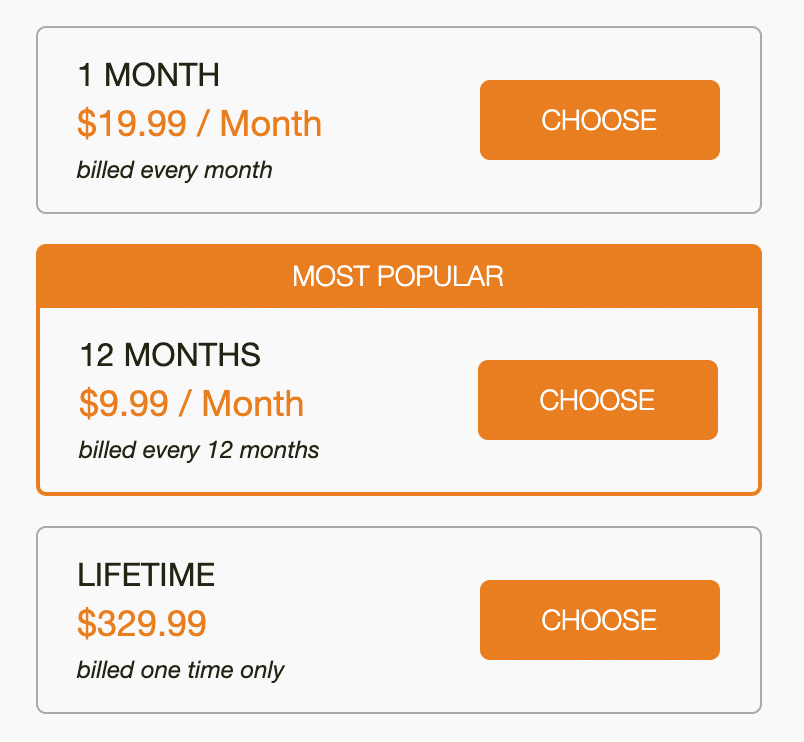 Pros
One of the best interfaces

– Easy to use and understand

Tracks your progress and keeps you motivated
Multiple Practice Modes: Slow, Fast, Single Hand
Affordable
Cons
Missing Basic Theory: Even though not having any theory is one of its selling points. Some theory would give some better context to some of the explanation
You should use this if: You want to learn songs and have access to one of the best song libraries that any other piano learning app offers.
A great introduction to the piano and a excellent way to learn songs.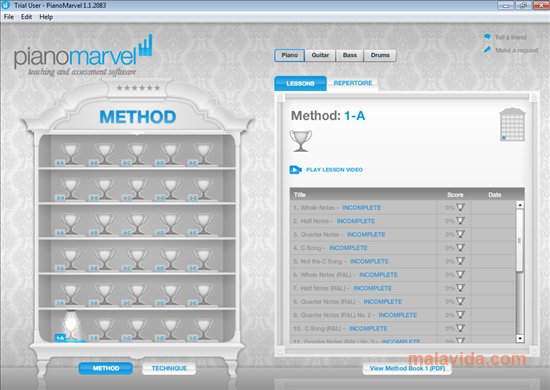 Piano Marvel
System requirements: PC, Mac, iOS, Android | Free option: Yes | MIDI compatible: Yes
Piano Marvel was one of the first online piano teaching and assessment programs. That also might be why it has a bit of a dated design, but don't let that distract you from how good this program is at its core. It was made back in 2009 by Aaron Garner when he was teaching piano and wanted to find a new approach to teaching young learners to read music and learn piano through technology.
Since this program has been around for over 10 years, it has a lot of content to go though — I think I can safely say it has more than most of the other apps on the market. There are 4 distinct learning areas in this program: Song Library, Sight Reading Assessment, Method, and Technique. Let's break this down.
Method: This is where you will spend the majority of your time learning. There are six levels divided into 30 sections which contain 20 lessons each. That is over 3,600 lessons.
Technique: This section reinforces the concepts covered in the main method lessons. You will be going more indepth to things like sight-reading, ear training, and flashcards.
Sight Reading (SASR): This is a pretty unique feature and has developed into an accurate assessment of your current sigh reading abilities. Many teachers and universities use this to gauge their students. Basically, you are given 20 seconds to looks at a piece, and then you have to play it as well as you can. You are then graded on a level of 1 to 18 through a point system. These levels correspond to the levels in the song library.
Song Library: This is a comprehensive song library that consists of pop, modern music, classical, and pieces from other major method books.
This method is really geared towards learning music in the traditional way with a major focus on learning classical pieces and sight-reading. That is one of the reasons this program has a large user base of teachers using it to supplement teaching children and young learners.
Prices and Plans
You can start learning though this program with a free account, but you will have to update to premium once you complete level 1 if you want to continue. I feel this way is better than a time-limited trial offer.
A premium account costs $15.99 per month
Pros
Sight-reading Test unique to Piano Marvel
Instant Feedback when connected with MIDI
Physical Books are available so you don't always have to have a device with you
Song emphasis on music notation and learning musical terms and signs
Cons
People with acoustic pianos can't take full advantage of the instant feedback and have to use book mode.
Platform kinda implies it should be used with a teacher
Most of the lessons and music focus on classical music
You should use this if: Learning classical music pieces and sight-reading are you main goals for learning piano. This systems works very well in conjunction with a teacher for young learners.
Teaching by using proven, effective methods used by traditional piano instructors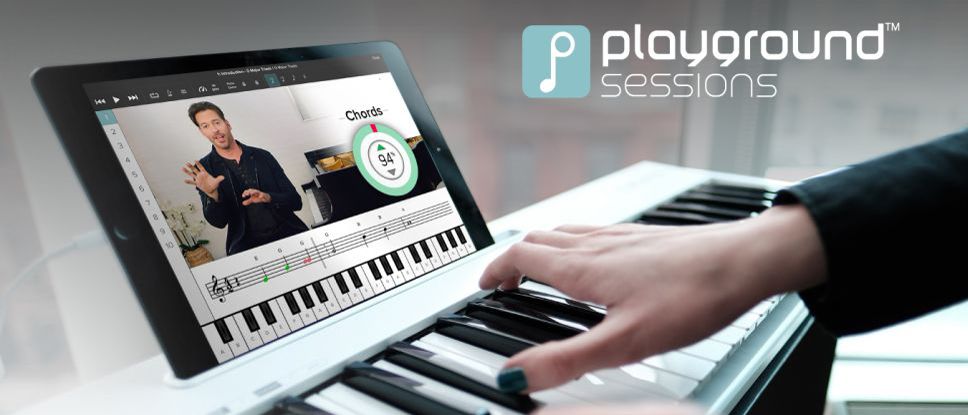 Playground Sessions
System requirements: PC, Mac, iOS, Android | Free option: No | MIDI compatible: Yes
Playground Sessions has a lot of superstar power behind him with the legendary producer, musician, Quincy Jones, as co-creator along side with Grammy-winner Harry Connick Jr. and David Sides.
The system behind Playground Sessions is that it features video lessons with world-renowned musicians that provide an interesting perspective which makes them enjoyable to watch.
Then the interactive sections will further explain the concepts you learned in the video lessons. This lessons are found under the "Bootcamp" tab. These lessons are excerpts from well known songs that you have probably heard on the radio that were chosen to teach you a specific concept.
Like the other piano learning apps, this features a scrolling bars to indicate when to play while giving you instant feedback on your performance.
However, the way it teaches is very different. While other apps have you learning songs piece by piece by dividing them into sections. Playground Sessions starts off by giving you a basic version of the whole song, and then as you progress through the lesson more notes are added until you are playing the real song.
Playground Sessions with a vast library of songs as well to supplement the lessons and just to enjoy. However, you don't get access to all of them. You get credits every month which lets you add songs to your personal library. I found this kinda silly to limit it in this way, but 5 songs per month is enough content for beginners. You can purchase more songs/credits if you would like as well.
I would consider Playground Sessions a success in terms of what trying to make learning piano fun and providing enough content, knowledge, and value to make it worth it. With the gaming elements and popular music, you will have fun learning songs and learning piano. This will give a good foundation jumping into more advanced piano courses and music.
Prices and Plans
Pros
Tons of popular music to learn

Gaming elements make it fun and motivating

Complete Progress Tracking and reports
Cons
The video lessons are few and far between
Difficult to play along with the videos: Not many visual aids.
Doesn't work with acoustic pianos
Lacking Music Knowledge and Theory Teaching. It gets better in this area in the Intermediate Tour Level
You should use this if: You have a digital piano and you want to learn piano as a fun hobby rather than something you want to really master. Young learners will also find it motivating.
A fun affordably-priced way to learn piano and your favorite songs.

Simply Piano
System requirements: iOS, Android | Free option: Yes | MIDI compatible: Yes
Simply Piano is another gamified piano learning app developed by JoyTunes. It has been an extremely popular app and has even won awards such as Apple's Editor's Choice Award and Best App from Google Play. Simply Piano is continually promoted in the in the App Store and Google Play store as one of the best options for learning piano. It has been a favorite with parents trying to get their children interested in piano as the user-interface is kid friendly and has music they are interested in.
The core of Simply Piano is the course modules that are divided into two different paths, Soloist & Chords. You can choose to do both at the same time or do them individually. In these courses, you will learn the basics and advance to learning various styles and chords. These lessons are focused on eventually learning a song, so it doesn't feel like you are doing endless repetitive drills with no goal in sight, you learning to play along with a song that you most likely have heard on the radio before.
The other main feature of Simply Piano is it's vast song library of pop songs and music from various genres. The song lessons are divided into bit-sized mini-lessons that will take you through learning each section of the song. Examples of songs they have are "Bohemian Rhapsody" and "The Entertainer", a jazz classic, but there hundreds more to choose from.
As with the other apps, this listens to your playing and gives instant feedback, but using MIDI is going to be more accurate. This does not have a web-based version so you will have to use it on your phone or tablet.
The Simply Piano program has a good curriculum that take you from beginner to playing somewhat difficult piano pieces. You will also be learning things such as chords and scales along the way, but it is pretty light on the music theory overall.
Prices and Plans
Simply Piano offers a 7-day free trial where you get unlimited access to everything it has to offer. After that they have a subscription model as shown below:
3 months recurring for $59.99
6 months recurring for $89.99
Annual recurring for $119.99
IMPORTANT NOTE: Be careful because the default subscription plan is set to the annual recurring play and will be charged immediately after the trial period is over. So just remember to cancel the subscription in the app store before the trial is over. This was a huge turn off for me, but due to the apps popularity I included it in the list.
Pros
T

eaches the basics of reading notes immediately

Can have multiple profiles so your kids, wife, or yourself can use a single account
Cons
Very Slow Pace
Advanced level is not very advanced
Some minor issues with not recognition when using microphone input
You should use this if: You want a completely guide piano method to take you from complete beginner to decent novice level. However, I do recommend going through the entire curriculum quickly as it is quite expensive and is lacking in some important developmental aspects — I would recommend trying to finish within the 3 month period.
A good place to start for complete beginners or young learners.
Best Online Piano Courses and Methods

Pianoforall
System requirements: PC, Mac, iOS, Android | Free option: Yes | MIDI compatible: Yes
Pianoforall was created by Robin Hall because he was tired of the traditional methods where you are stuck learning old public domain songs or books that only taught a single method. That might be why his unique method has caught the attention of over 300,000 students and remains one of the most popular courses you will find.
This course is presented through a series of 9 interactive E-books and will teach you how to:
Play Piano By Ear
Improvise
Create Compositions
Read Piano Sheet Music
Play various styles of piano including: Rock, Blues, Pop, Jazz, Ballad, and more
In each of these E-books there are audio and video lessons embedded so you don't have to go fumbling around and opening other files in other programs — everything is nicely consolidated into the e-book — you just hit play.
The E-Books themselves are separated by main principle it is trying to teach. For example, the first book, "Party Time", is all about introducing you to various rhythms and chords that will set a foundation for the rest of the course.
The principle behind Robin Hall's method is that he wants to give you a foundation in chords using real rhythms and grooves. That way you can begin to hear the chords and how they interact then build your ability to play by ear and improvise as you progress.
You will not be required to memorize or go through the laborious process to sight read piano pieces like some other more traditional methods. You will be learning about chords and harmony as you actually learn music through this piano course.
One of the main differences between this course and many of the piano learning apps, it that it doesn't hold your hand as much. It give you the tools and knowledge you need, but you will have to put in the practice time and figure out a few things on your own. In my opinion, that is actually a good thing because it will learn it more deeply. This course gives you plenty of formulas and memory hacks to speed up the learning process as well.
This course also provides some of the most comprehensive lessons on practical music theory I have found in any course dedicated to piano. Usually, one would have to get a separate book or course dedicated to theory to get this amount of practical theory knowledge.
PianoForAll will give you the skills and foundation to actually learn how much works while learning to play songs, not memorize, and even compose and create your own music.
Prices and Plans
This course is one of the most comprehensive and affordable courses I have found.
There is a current discount of 50% so you can get this course for $39.

Pros
Focuses on learning to play with musicianship
Includes sections about learning to play by ear and improvisation.
Cons
Missing Basic Theory: Even though not having any theory is one of its selling points. Some theory would give some better context to some of the explanation
You should use this if: You do well with learning through e-books and prefer not to watch a ton of videos. I like this way because I can easily go through the material at my pace without being slowed down by the pace of a video.
The most affordable piano course that will actually teach you how to make music
Virtual Piano Teacher by Mark De Heide
System requirements: Web-based course, Skillshare App (iOS, Android) | Free option: Yes (Trial)
This is a course created by Mark De Heide who has become one of the largest Youtube Channels providing in-depth piano lessons. And when I say indepth I mean over 24 hours of video content covering music theory, songs, chords, intervals…pretty much everything you need to know from beginner to intermediate piano player.
Mark De Heide is an excellent teacher and has a lot of energy and charisma so I found it very easy to watch and play along with his lessons which can ranger in length from 20 to 50 minutes.
Now I know that sounds like a long time to sit and watch a video of someone teaching piano especially for a cumulative total of 24 hours, but like I said, he has a lot of energy and wants you to practice and follow along with him while you watch.
This is one of the most comprehensive video based courses that I have found that goes into great detail on all of the important aspects of piano, music theory, and even stretching.
He provides a excellent break down of the goals of each lesson on the class "about" page on Skillshare. There are a total of 48 core lessons in this course.
He does a great job at explaining all of the details that you need. I know I had a few breakthrough moments going through the "Circle of Fifths" and "Piano Modes" lessons — I'm sure you will too.
The course is presented in a top down view of the piano keys when he is playing. Explanations of concepts and working on music theory are presented on a chalkboard. Everything is done in real time just as if you had a teacher there with you.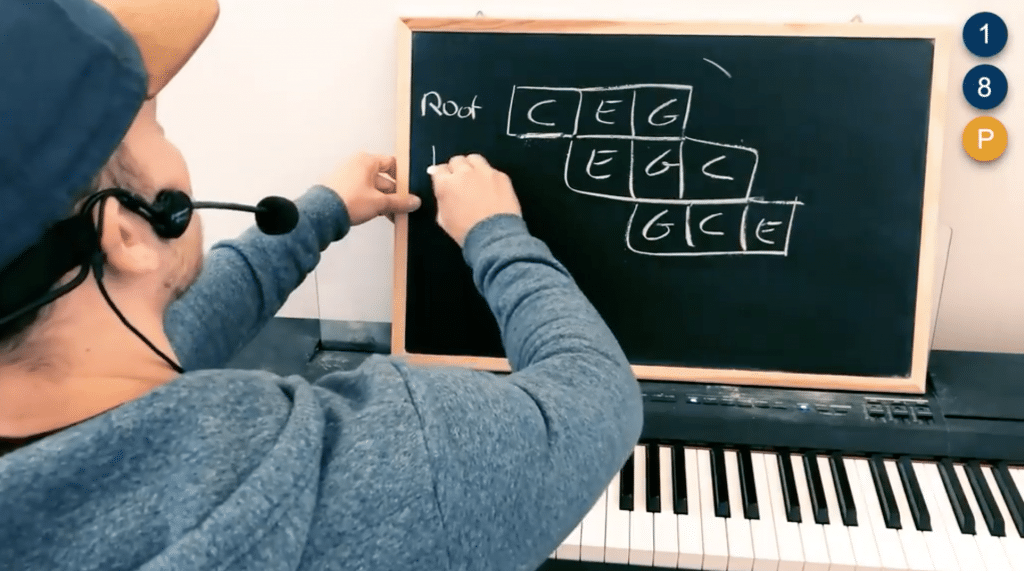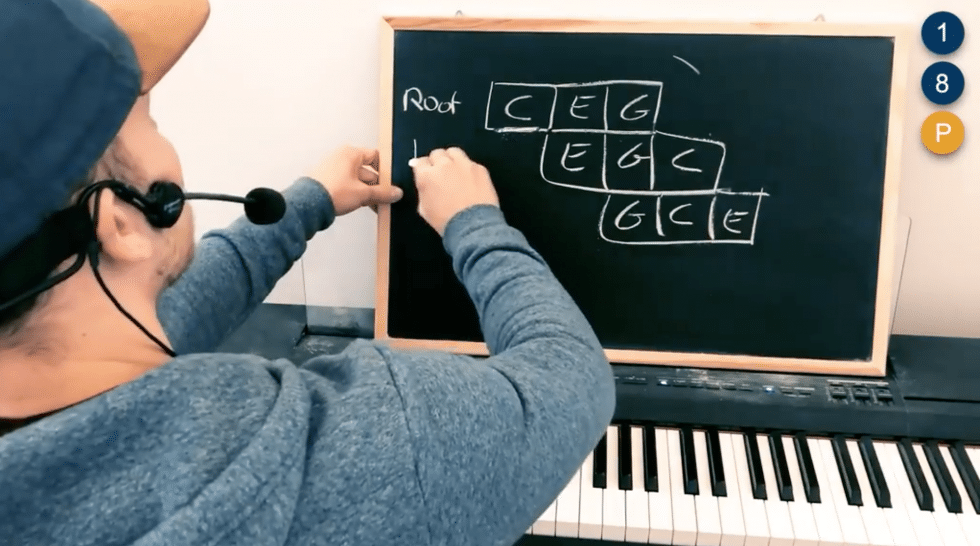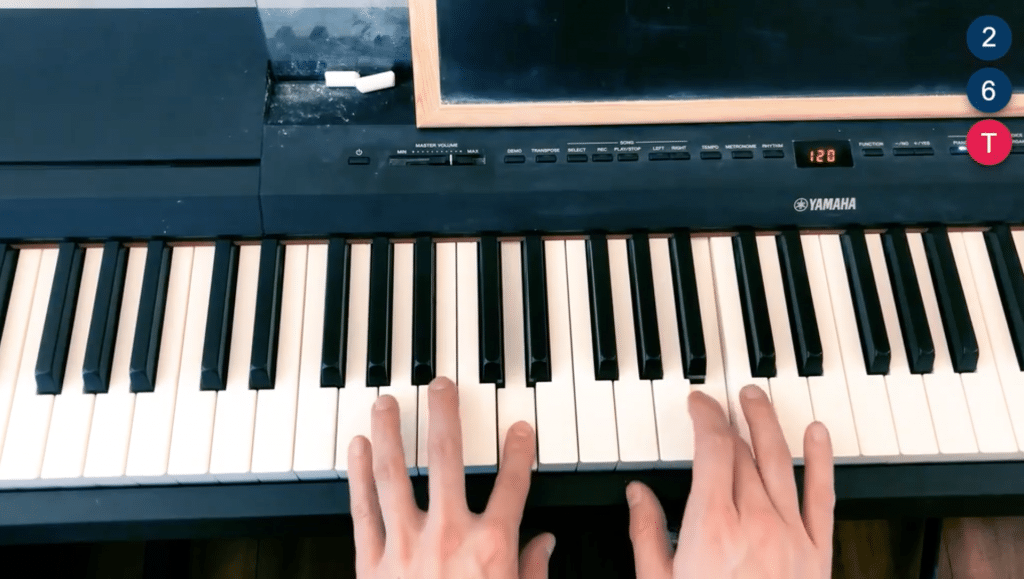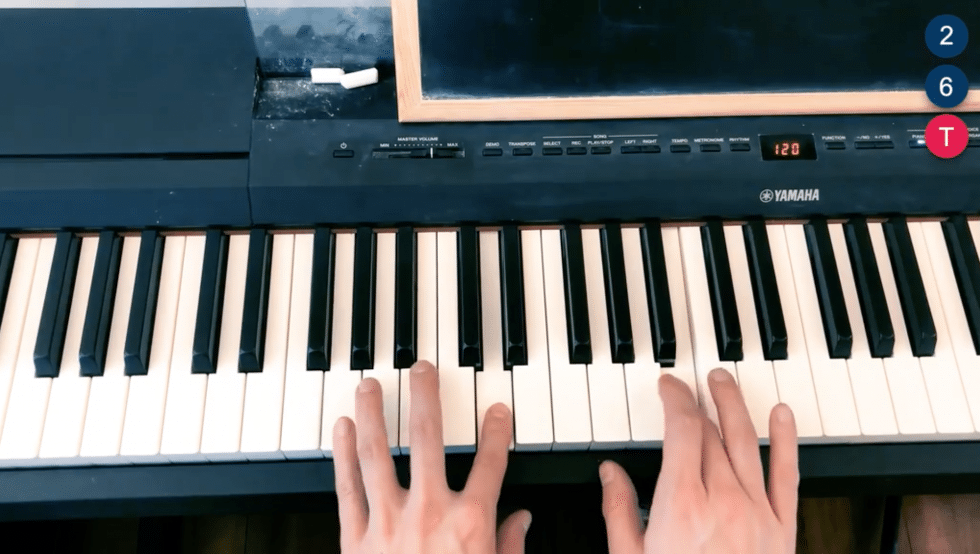 Also, there are virtual piano demonstrations that use a guitar hero like note scrolling that are used to help you learn a few songs.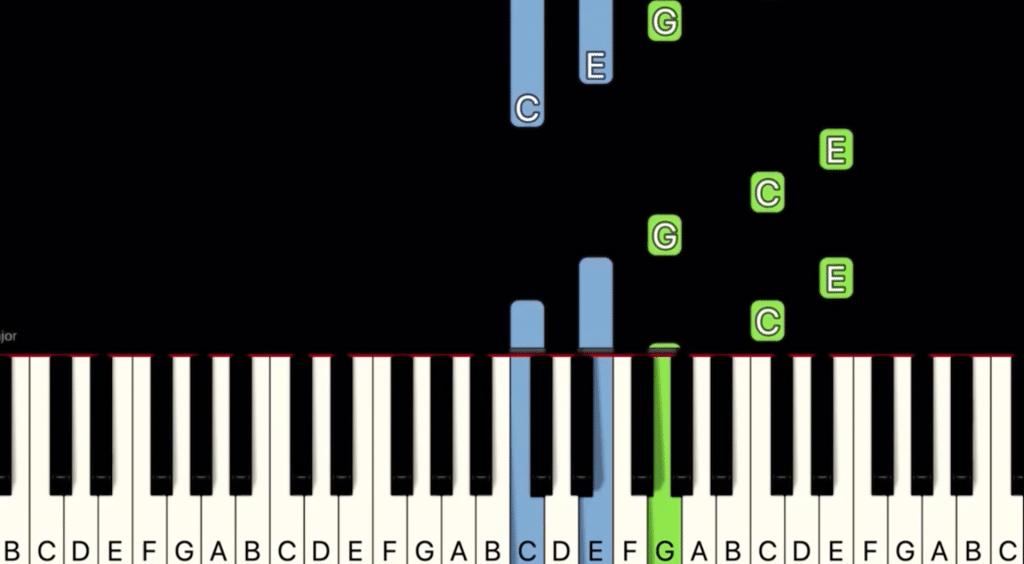 Mark De Heide wants you to approach this course and the lessons like you are going to visit your piano teacher and sit down to have a lesson. That is also why he calls this the "Living room Piano Course" because you are with him in his living room and learning him and looking over his shoulder.
Prices and Plans
This course is hosted on Skillshare which is has a monthly subscription model. They have monthly and annual rates
Monthly: $15
Annual: $99 ($8.24/m)
You can get a 2-week free trial though this special offer that IMR has obtained. (without it you only get a 7-day trial)
That should give you plenty of time to work though the first chapter of the course and see if it is a good fit for you. An added benefit is that you get access to thousands of other courses on musicianship, music business, promotion, and dozen more topics.
Pros
Teacher has a lot of charisma is and easy to watch and listen to
Provides extra free resources on his website
Very in-depth and covers most topics up to intermediate to advanced
Beginner friendly
Many visual aids
Cons
Lesson can be a little long and heavy on music theory.
You should use this if: You are dedicated to learning to play the piano and music theory. You will have a lot of knowledge of chords, scales, intervals, taught to you in an interesting way. If you enjoy over the shoulder learning and being quizzed on your knowledge in real time. This you should start this course.
One of the most in-depth video courses on the internet. You will be well on your way on your journey through the world of piano after this.

Piano in 21 Days
System requirements: Web-based course | Free option: 5-day free workbook | 
Jacques Hopkins is the creator of the Piano in 21 Days Method. He learned piano through the traditional methods of memorizing and sight-reading classical pieces, but realized that after 12 years of learning piano, he could only play 2 songs to some friends that wanted to hear him play — and those 2 songs were classical pieces. To say the least, that wasn't very excited to listen to in a party environment.
That is why he created this methods that focuses on chords and improvisation, similarity to the PianoForAll course, but this is condensed into 21 days of core lessons. And unlike, the PianoForAll course, this is video-based course so if you are a very visual learner this might be beneficial to you.
Another thing is that you will not be seeing or using any traditional notation throughout this course as this focuses on chords, progressions, and beginning stages of improvisation.
The format of the lessons is fairly straightforward.
You watch a video lesson
Listen to or look at the accompanying flashcards, song, or audio exercises
Get the learning outcome for the day
Practice until you can complete the outcome and learn what you should be able to do before moving on to the next day
Piano in 21 Days will really get you playing piano within that time frame, and provides a good starting point for people that have had prior bad experiences or simply afraid of learning the piano. In fact, most of the students are over the age of 50.
Prices and Plans
Pros
You start playing actual music from the beginning
Well defined goals for each lesson letting you know when to move forward
Small, easily digestible lessons
Cons
Missing Basic Theory: Even though not having any theory is one of its selling points. Some theory would give some better context to some of the explanation
It is a bit on the expensive side, but the ultimate plan includes a ton of extra courses.
You should use this if: You have been stop and go with piano and feel demotivated when you think about learning piano. This method make it easy, fun, and fast to see progress and gain confidence in yourself. This method is all about learning piano simply for your own enjoyment and sense of accomplishment — it's nice to show off to friends and family occasionally as well =)
A straightforward and quick method to simply enjoy playing piano


Jazz Edge (Formerly Piano with Willie)
System requirements: Web-based course | Free option: Yes | MIDI compatible: Yes
JazzEdge was created by Willie Myette, a Berklee graduate and an accomplished pianist in his own right, who wanted to put his education and entrepreneurial spirit to use. So he has created multiple piano programs for kids and adults along with other instruments as well. Here is a list of all his programs:
DrumsWithWillie
Homeschool Piano
Easy Piano Basics
His flagship course is JazzEdge, of course, and boasts more content than any other online piano platform.
The library of courses he has overs almost everything topic you would want to learn and more. It ranges from jazz, music theory, blues, rock, funk, improvisation, ear training, and more. You can look at his list of courses at this link.
However, it can be overwhelming for you to go through and select what course would be best to start. That is why he offers a progression plan in the form of "Piano Paths". These are collections of courses that will give you a practice plan. These are often down in to beginner, intermediate, and advanced paths.
Also, he provides a free 30-day Piano Playbook as an easy way to gauge your level and what courses your should tackle first. Here is an example of how some of the lessons are presented. This is from his "No Bull Piano", which is a subset of Jazzedge.
Compared to all of the other courses and Apps listed in this article, this piano learning platform is the most difficult, in a good way. This is really showing you and teaching advanced high level jazz piano — Advanced in most of the other Apps or courses is probably closer to novice or low-intermediate.
If you are serious about taking a deep dive into piano, this is definitely the program to use. You can sign up and get access to some of his free resources like the 30-Day Piano Playbook.
Prices and Plans
JazzEdge can be divided into two program. The main JazzEdge program and the smaller more focused set of lessons.
Here is JazzEdge subscription plan:
NOTE:When you sign up, you automatically get a free 14-day trial so you can take a look at the platform before you actually commit. You should cancel 2 days before the end of the trial do you don't want to continue.
Here is the NO BULL PIANO subscription plan:
Monthly: $14.95
Annual: $155.40
The NO BULL PIANO option gives you access to 26 courses and you can upgrade to JazzEdge at anytime while keeping your progress.
Pros
One of the longest running online piano learning courses.

Thousands of lessons
Free 14-day Trial
The only platform that teacher advanced piano concepts and music theory.
Weekly meetups & and Community
Cons
The monthly subscription for the flagship program is expensive. But offers a smaller program for a more affordable price.
You should use this if: You want to learn advanced piano and and become a musician with the knowledge and skills to play with the best of them.
For the people that truly want to master the piano
Related Questions
Should I buy a course or use an app to learn piano? I think if you are a total beginner and you have never picked up a piano or keyboard before, using an app to set started is a great way to get instant feedback on your playing without having to go to an in-person instructor. However, if you have had some experience with a piano and you actually want to learn music and piano deeply, i think it would be better to go through a course because most of the applications just don't teach much actual intermediate to high level piano such as in-depth music theory and other concepts that a course can go deeper into. Plus, some courses allow coaching-calls or streaming sessions as is the case with JazzEdge.
Conclusion
Apps and online courses have become a viable option to learn piano and other instruments. While they are not as good as taking lessons in person with an instructor, they provide a lot of value and convenience for the busy hobbyist or indie musician.
What course or app have you used to learn people and how did you like it?
If you are looking for more resources check out my library of resources for musicians ranging from music theory to music business below.