If the computer is the brain of your home studio setup, that would make your audio interface the heart of your home studio.
The main purpose of the audio interface is to take analog signal inputs and turn them into a digital signal for your computer. Everything in your studio will center around the audio interface. Your microphones, guitars, headphones, and your monitor speakers will connect to it.
Since it is the pumping the lifeblood of your studio, well it's just audio signal, but it's just as important!
I am going to recommend the most reliable audio interfaces for the home studio on a budget.
Note: Why didn't I pick 5 of the best interfaces under $200? Because there are not 5 absolutely great interfaces under this price point.
QUICK ANSWER: Looking for a cheap solution and want to get the best bang for your the smallest about of buck? Then the Focusrite 2i2 is your best bet for under $200. This is a little tank of an interface that will be your new best friend. This for the solo artist, home studio, or podcaster who does not require a lot of inputs and outputs.
Focusrite 2i2
RECOMMEND FOR:
The Focusrite 2i2 is a little tank of an audio interface is sturdy enough to take with you on the go and reliable enough to not fail.
It is perfect for solo artists that want to record vocals or record guitar/bass going directly into the computer.
Let's get into why this is one of the best audio interfaces for beginning home studios on a budget. It comes with 2 combination connectors on the front that will let you either record up to 2 microphones with phantom power or use them for instrument inputs such as guitar or bass. Focusrite is world-famous for some of the preamps they have created. And the ones included in the Scarlett 2i2 3rd edition are some of the best I have heard in the Scarlett series.
On the back, there are 2 outputs for monitors using TRS connectors as well as the USB-C connector for the bus power supply. While two outputs can seem limiting, you don't really need more unless you have multiple interfaces you are using together or have multiple studio monitors that you use to reference.
Going back to the front, you will there is a single headphone jack for headphone monitoring, which you can use along with the direct monitoring button included to directly monitor the input without going through the computer or DAW. This will reduce and pretty much remove any latency when you are recording or doing overdubs.
If you have had a previous generation Scarlett interface, you will notice there is a new button on the front called "Air". This actives an extra circuit that will make your guitars and vocals sound magically brighter and give them that extra sheen.
An added bonus with buying the Focusrite Scarlett 2i2 is that it comes with a TON of bonus software and extras.
Pro Tools|First & hundreds of virtual instrument sounds, loops, and effects
Ableton Live Lite
FREE 3 months of Splice Sounds
XLN Audio Addictive Keys
Softube Time and Tone Bundle
Focusrite Red Plugin Suite
Focusrite Plugin Collective
All these extra add up to be over $100, you get them included when you buy any Focusrite Scarlett interface.
PROS
Great for recording vocals and guitars
Great Preamps with combination connectors (microphone or instrument input)
Low Latency
CONS
Downloading all the bundled software can be time-consuming
The instrument inputs lack a little headroom for guitars.
Native Komplete Audio 2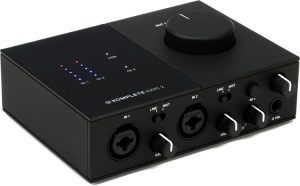 RECOMMEND FOR:
I have been a long time user of Native Instruments products, and when I found out they had released a new audio interface I had to check it out.
One of the first things you will notice is how sleek and compact it is. This coupled with its simple design and number of inputs and knobs makes this a great looking compact audio interface. Basically, it's a good simple, little USB audio interface.
This is very much like the Komplete audio 6, but with fewer inputs/outputs and made of plastic instead of metal.
Let's get into the meat of the review and talk about how this little interface performs. The Komplete Audio 2 comes with 2 combination connectors with phantom power and individual gain knobs for connecting microphones, instruments. It even includes an option to connect line-level input such as outputs from synths and other devices.
Many of the audio interfaces in this price range are going to be very similar in terms of overall audio quality. From listening back and comparing it to other interfaces, I felt the quality of the sound is pretty close to that of the Focusrite. At this price point, you are not going to be able to compare this to other interfaces in the $500 or more range. I would imagine that any beginner musician or producer would be not be disappointed with the sound quality.
There is a lot of discussion about the direct monitoring system on this interface. The main issue is that the direct monitor option is only available on the headphone output. So if you want to listen to your input signal you will either have to listen with headphones or open your DAW and listen with input monitor on track. However, you will be listening with latency. Many people found this to be a dealbreaker. If you will be wearing headphones when you are recording playing guitar, it doesn't seem to be much of an issue.
With this little interface, you get an enormous software bundle that is almost worth the price of the interface itself. They provide a great incentive for people looking to get access to Native Instruments world-class virtual instruments, synths, effects, samples, and loops. Here is the full list of software included in the bundle:
Monark: Analog modeled synth
REPLIKA
PHASIS
SOLD BUS COMP
Machine Essentials
Ableton Live 10 Lite
Komplete Start
Sounds.com Free Access (2 Months)
Gift Card for NI Shop ($25)
Pros
Great Software Package
Small and compact for recording on the go
Cons
No direct monitoring through the main outputs.
Conclusion
This is a great little bus-powered interface that you can easily take with you on the go. While it isn't as fully featured as some of the other interfaces on the list, it is the most affordable one I have included here. If you are getting started and want to have a headstart with your synth and sound library, this would be the interface to get.
CTA
SSL2 USB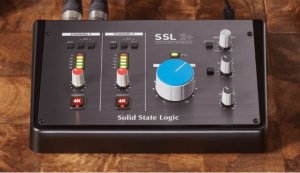 The legendary audio console company, Solid State Logic or SSL for short, has finally entered the home recording studio market with the introduction of this new audio interface.
So If you don't know about SSL, they have been building audio hard such as large format consoles from the 60s. Pretty much anyone in the pro audio world will know about SSL. Many of the top studios back in the day had an SSL console.
They have released two versions of this audio interface – SSL2 and SSL2+. The SSL2+ comes with more outputs and headphones jacks for multiple monitor mixes and allows for multi-studio monitor setups. However, we will focus on the basic model, SSL2, because the SSL2+ is a little too much out of the $200 limit we placed on this article.
The SSL2 also comes in over the limit as well, but is pretty darn close. And with the performance of this little device I had to include it.
So let's get into the review.
Visually, this has the SSL aesthetic with the knobs and colors and overall design. I really liked how all of the knob and level indicators were mounted on the top panel. It makes everything so much easier to tweak and adjust when it is sitting on your desk – as opposed to having everything squeezed into the small front-facing panel on most audio interfaces.
It comes with 2 inputs that accept microphone, line-level, and hi-Z (instrument) levels through combination connectors similar to the Focusrite and Komplete Audio 2. An added bonus is the independent +48V (phantom power buttons for each input, which I was glad to see.
Under the gain knobs, you will see a 4K button which adds a high. frequency boost and some great sounding harmonic distortion to give your recording some more character. I would use this a lot for recording when something was just sounding a little too dull.
You are probably wondering how they deal with latency and direct monitoring. Well, it is similar to how the NI Komplete 2 does it by using a knob to mix between the input and the DAW output.
However, this goes to both the main outputs (studio monitors) and headphone output! (Unlike the Komplete Audio 2)
This little device also comes with a great software pack with legit SSL plugins and many others. Here is the list:
1.5GBs of samples from Loopcloud
SSL Native: Vocalstrip 2 & Drumstrip
Komplete Start
Pro Tools |First
Ableton Live Lite
Bomb Factory Plugins
Hybrid Keys
Pro & Cons
Pros
Built by a company with a long history in professional audio
Great sounding preamps
4k button for analog saturation
Great top-panel design and usability
Cons
A little over the $200 budget limit
Conclusion
This is a very well thought out audio interface that has everything a beginner would need. The history and reputation that SSL has in the industry make this a strong and reliable device that any home studio owner would love to have. If you are interested you can also check out the SSL 2+ at Sweetwater.
How To Choose A Great Budget Audio Interface
What To Consider?
There are a few things you need to consider when purchasing a new audio interface.
Number of Inputs and Outputs (I/O)
Connect Type
Latency & Direct Monitoring
The I/O (Input & Output)
The number of inputs and outputs you need is really going to depend on what you are planning on recording. So if you are a solo artist the interface you are going to need will be different from a 4 person band.
The reason for that is because the band is most likely going to need to record multiple instruments at the same time and drums alone require multiple mics.
So, for solo artists, you should look for interfaces with 1 or 2 inputs. That way you have the option to mic your instrument and have a separate mic for vocals thus giving you a little more flexibility.
For bands, you are going to want an interface with at least 4 inputs or more. That way you can record a basic drum setup if you decide to go that way (Kick, Snare, and Overheads x2).
Most of the smaller interfaces come with 2 outputs, which is enough usually because they are often used to connect to your studio monitors. You probably only need more if you had the need for advanced monitoring setups.
Input Considerations
The input on most modern audio interfaces is no longer solely just for microphones. You are able to connect instruments and other devices. (hi-Z and line-level devices).
Mic Preamp & Phantom Power
Most audio interfaces include 1 or 2 microphone preamps (or Mic pres for short). You will be connecting your microphone to this so that you can record audio back into your computer. If you are going to be using a condenser microphone, you will want to make sure your audio interface includes phantom power.
Don't worry – all the audio interfaces on this list have phantom power!
Instrument-level (also called "hi-Z") inputs.
If you're a singer-songwriter, then you may only need a pair of inputs, as long as they're the right inputs. Most audio interfaces include two or more microphone preamps. If you're going to use condenser microphones you'll want to make sure that your interface's preamps are also equipped with phantom power. If you're going to plug your guitar or keyboard straight into your interface, make sure that the interface you buy has instrument-level (also called "hi-Z") inputs. Line-level inputs and outputs are great for hooking up outboard processors, headphone amps (for creating separate headphone mixes), and studio monitors.
Line Level
You can connect other audio devices that send a line-level signal. These should be an analog synth, DJ turntables, or audio devices.
Line-level is a signal level that is used to interconnect audio gear, but still much strong than instrument or mic level. It is rated at -10dBV (0.316v) or +4dBV (1.23v) for consumer and professional-grade equipment respectively.
Connection Type
You need to verify that the type of connection the audio interface uses is compatible with your current computer. There are many types of connections that audio interfaces use:
Firewire
Thunderbolt
USB
PCI
But in recent years, it has come down to pretty much 2 types that are the most common — USB and Thunderbolt.
With a budget audio interface, you are going to most likely getting an interface that is USB. I found that most interfaces under $200 are using USB 2.0, which is good enough to get started. According to technical data, USB 2.0 should be able to record up to 64 tracks of audio at a time, which really depends on a lot of factors. But you should have no problem recording up to 3 or 4 tracks at a time. The Focusrite Scarlett Solo and other versions are using USB 2.0.
Utility Mixing Software & DAW
Many audio interfaces come with proprietary routing and mixing software that will allow you to control how the signal going through your audio interface is routed. This will let you set up headphone mixes for when you want to do overdubs along with many other useful features. I personally have the most experience with using Focusrite's Mix Control. It has been something that I often use. Others don't need 3rd party software and just require simple routing in your DAW.
Latency
When dealing with audio that is going to be processed by a computer there will always be some form of latency. Some audio interfaces will allow you to bypass the audio from the computer and allow you to direct monitor that audio that is coming straight from the microphone.
This is called direct monitoring.
A lot of the companies that build the audio interfaces have different methods of implementing direct monitoring to deal with the issue of latency.
The interfaces reviewed in this article all have a button or knob to allow for direct monitoring. Only the Komplete 2 does not include direct monitoring on its main outputs – it's restricted to the headphone jack.
The 3 Best Budget Interfaces
Focusrite Scarlett 2i2
Native Instruments Komplete Audio 2
SSL2 USB / SSL2+ USB
Final Thoughts
You are most likely in the process of purchasing your first audio interface, and it can be very easy to get stuck in decision paralysis.
There are a lot of things to consider and you want to make the best choice. So I tried to keep this review as concise as possible and limited to the 3 most popular and well-received interfaces I could find in my research.
Hopefully, this helped you make a decision and learn about some of the considerations you need to make when purchasing a new audio interface.
Be sure to check out the recording section in the Indie Musician Resource Library to find books and videos about using your audio interface.