You have probably checked out some of the automated online mastering services such as Landr, Cloudbounce, and Aria Mastering. These are all companies that are touting using advanced AI algorithms to create top-notch masters.
While I am not going to go into the debate of whether or not these services good or bad.
I am here to talk about how one of these particular services has scammed hundreds of start-up musicians and producers out of their money with their dodgy business practices.
This particular service is called eMastered.
I will go ahead and answer some questions I have got to save you some time if you happened to find this and are wondering if you should use eMastered or not.
Is eMastered any good? No
What is better than eMastered?
If you want to use any other automated mastering service, Landr has the best reputation. You can check out the other the dozens of Landr vs eMastered review on Google and Youtube to get a more in-depth answer.
But I would suggest in learning to use Ozone which costs about the same at 2 months of emastered. You can also rent to own it through Splice.
What is Emastered?
eMastered is an automated online based mastering service started around 2016 by Smith Carlson and Collin McLoughlin as a way for musicians and audio creators to have access to pseudo-mastering services. It is aimed towards people that haven't developed the skill, acquired the experience, or don't have the budget for a mastering engineer.
A few years ago, services started popping up that offer automated mastering using so-called AI and machine learning. These automated mastering services allow you to upload your song and through their algorithm, they will master your song instantly.
Now, Landr is one of the first companies that offer this service and has become very well-known among engineers and musicians. After the success of Landr, dozens of other services touting the use of advanced AI and machine learning popped up.
There is where eMastered comes in.
While this sounds like a noble endeavor to help budding musicians and producers make their music sound better, there have been a slew of complaints about the company.
Part of the problem comes with many new musicians are not familiar with the difference between mixing and mastering. So services like eMastered prey on these new artists hyping them up thinking their music will sound sound pro-level with a click of a button.
Problems and Complaints with eMastered
If you google eMastered, you will find dozens of complaints against them on business review portals such as the Better Bussiness Beauru, Trustpilot, Pissedcustomer, and many other forums.
I'll give you a basic rundown of the complaints again eMastered and why many people feel scammed by them.
Not honoring refund policy.
Still being charged after canceling
The confusing and fine print about their annual commitment plan
No way to contact through email or phone number
Sure some of these complaints could be user error and not doing enough research, but the sheer number of complaints does make it seems like a systemic problem with the operation of the business.
Subscription Plan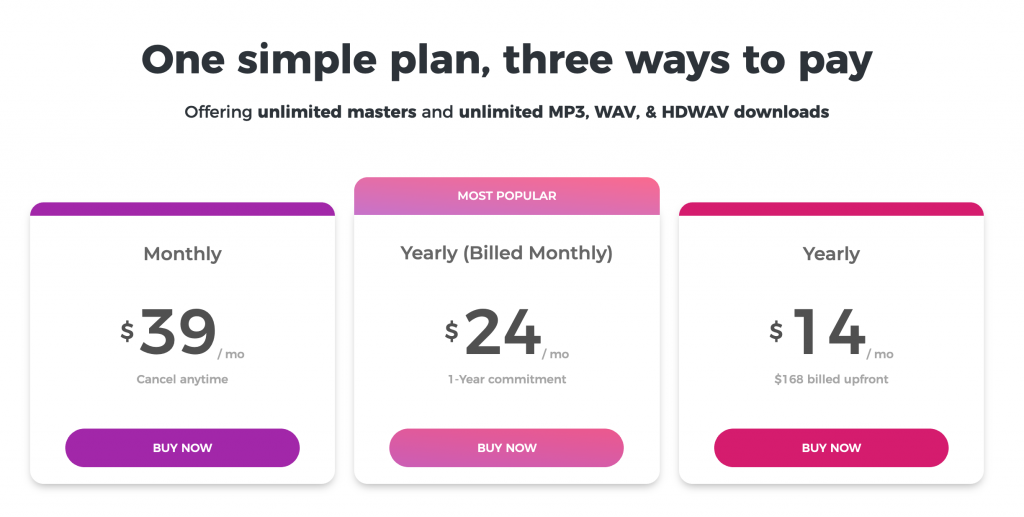 eMastered only provides you with subscription plans, which is a good business model for them, but how is that beneficial to the musician. If an artist just wants to quickly get a single track quickly mastered, they are going to have to pay $39. Just about every other service has an option to allow you to get a track mastered without subscribing.
Furthermore, that is the only pricing plan that doesn't require a yearly commitment. If you go with the $14/mo plan you will have to pay $168 immediately and for the $24/m you are going to be stuck paying that for 12 months even if you don't like or need the service a month from now.
They made the monthly no-commit option so expensive they corner you into going for the yearly commit payment plans.
I will be discussing this further in the alternative option section, but it's important to know now that you can rent-to-own Izoptope Ozone 9 plugin for about $10/month – with the mastering assistant and presets sounding better than what this service can provide.
Where is the pay as you go option? You would be able to pay for getting a single tracked mastered and not pigeon-holed into a subscription.
Marketing and Branding: AI, AI, AI, oh, and Grammy, Grammy, Grammy, Grammy
Let me mention it again, Grammy and AI.
The messaging on their website splattered touting their machine learning AI algorithm and Grammy-winning engineers.
As far as I can see, the two founders of eMastered do not have a background in computer programming let alone machine-learning. Machine learning coupled with the complexity of digital signal processing really seems unlikely from a duo of producer/musican founders.
However, from posts I have found they state that they coded the AI engine themselves and Smith was the one that linked it to the web app.
I tried to find any kind of software development background or at least some public open-source projects by them, but couldn't even find a Github account.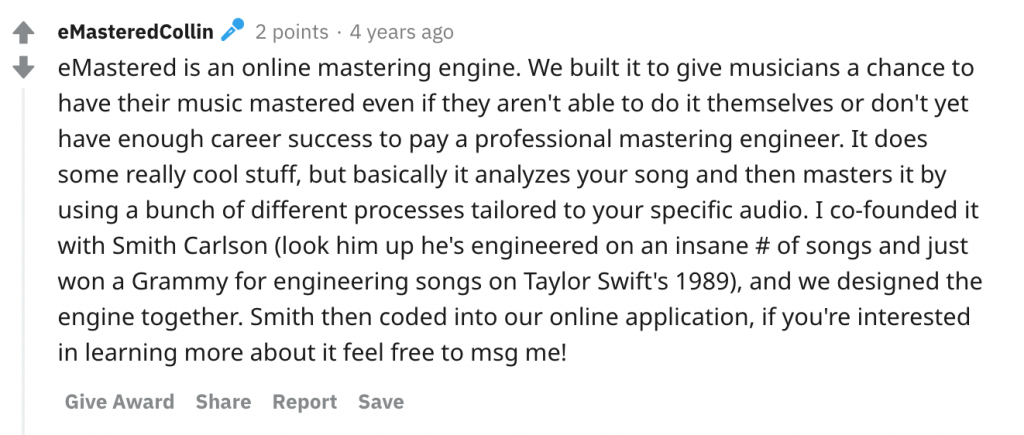 I would really be curious to learn more about how they are implementing machine-learning and AI along with what programming language they used to create this.
Then there is/are the Grammy-winning engineer(s).
The number of times they mention Grammy-winning engineers as part of their messaging leaves car-salesy feeling when I read it. Is a Grammy the end all be all of sound? Are these Grammy awards even related to mastering?
I saw that the founder Smith Carlson did get the "Album of the Year" Grammy for being apart of the production team for Taylor Swift's "1989" album. Not to knock be being part of the production team, but this isn't like he won a Grammy for "Best Engineered" Album which would be more in line with messaging for an automated mastering service.
All this mentioning of AI and grammy-winning engineers just seems like a bunch of buzz-words with little to no substance.
Customer Complaints with eMastered
There are complete websites dedicated to informing the public about the business practices of eMastered.
A person has started a blog collecting all of the negative reviews found on the internet and posting them in a single location. It's called eMastered eXposed. I would definitely check it out.
Also, I am going to show a few snippets of complaints I have found posted on various websites.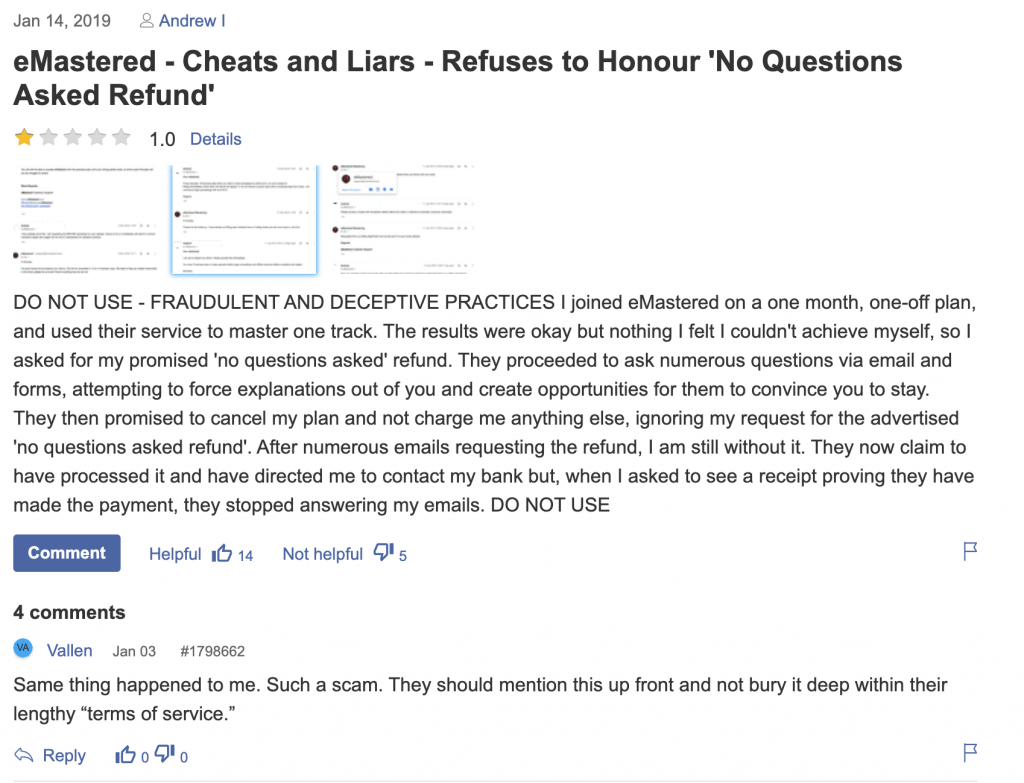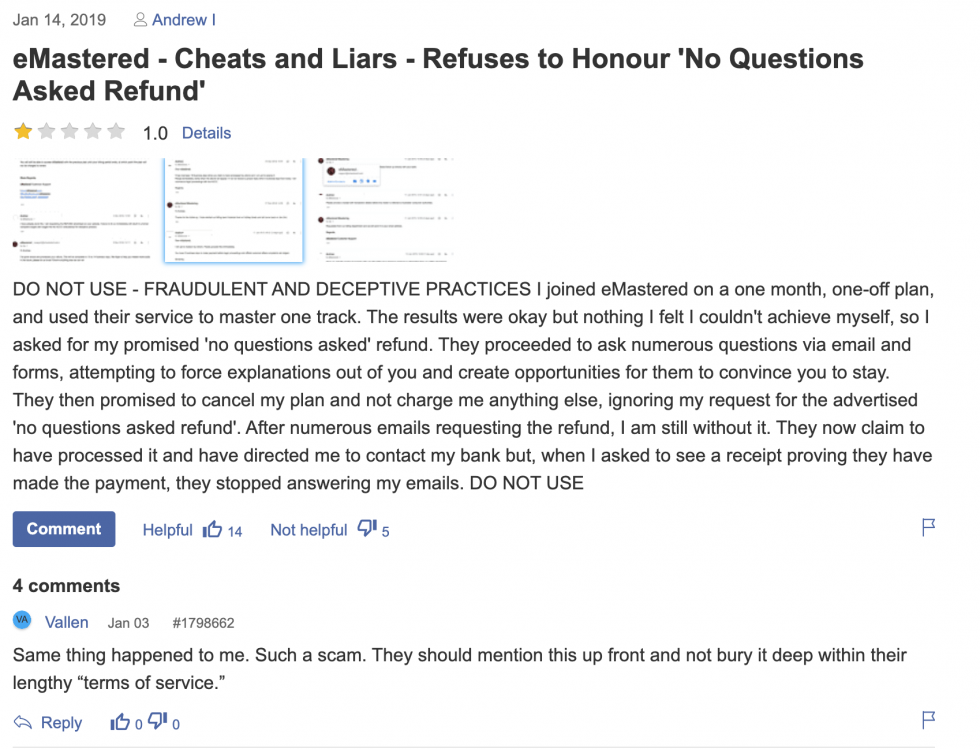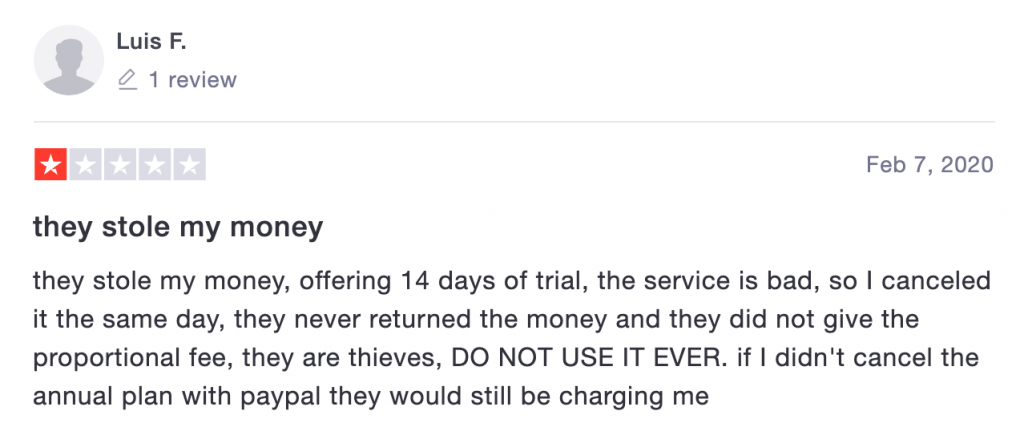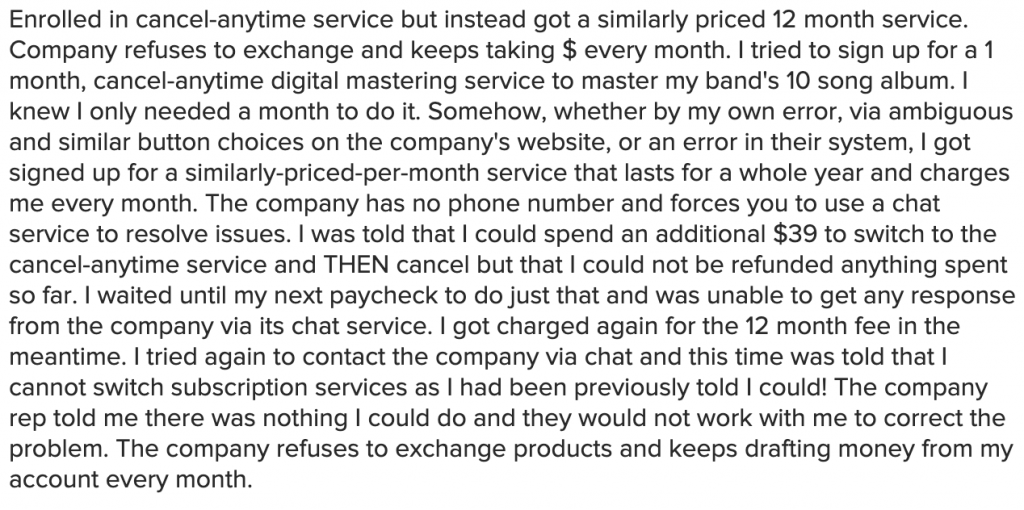 While I have read over hundreds of these complaints, most of them stem from confusion about the monthly plan and not noticing it is an annual commitment.
However, the response that the owner gives to these customers is generally rude and condescending. Saying that you are not going to help these customers that were confused by the messaging on the website is very unprofessional.
Many of these musicians and producers use this service because a real mastering engineer doesn't fit into their budget. Then to have the owner of this company who is also a musician be so unhelpful and condescending to these aspiring musicians and producers is sad.
I think it is time for me to try the service out for myself.
eMastered Review: My Personal Experiences
So far, most of the problems and complaints that I have shared are 2nd hand reports from consumer report websites and forums.
I am going to share my experience with eMastered.
The Actual Service: Mastering Quality
I ran a few tracks through it of mixes that I have done for some of my clients. (Sorry don't have permission to post them)
Overall, my impression is that everything obviously got louder, but it seemed to also push everything more forward which gave most of my mixes a very compressed sound. I felt like the depth had gone out of my mix. Plus, the high-end seemed to get harsh.
I felt like the option menu is very limited as to how big of a change you can make if you don't like the default settings. If you use something like Ozone, you can run through the presets and get some huge changes to the overall sound. Then you can further tweak until you get the sound that you want. For example, if you just want to bump up the high frequencies a little during the chorus, you can not do that with eMastered or any of the other automated mastering services. Everything it does will make general changes to the song and will go into the details that might help bring out important parts of the song.
Then there is the over the top graphic of the audio being processed with totally irrelevant captions.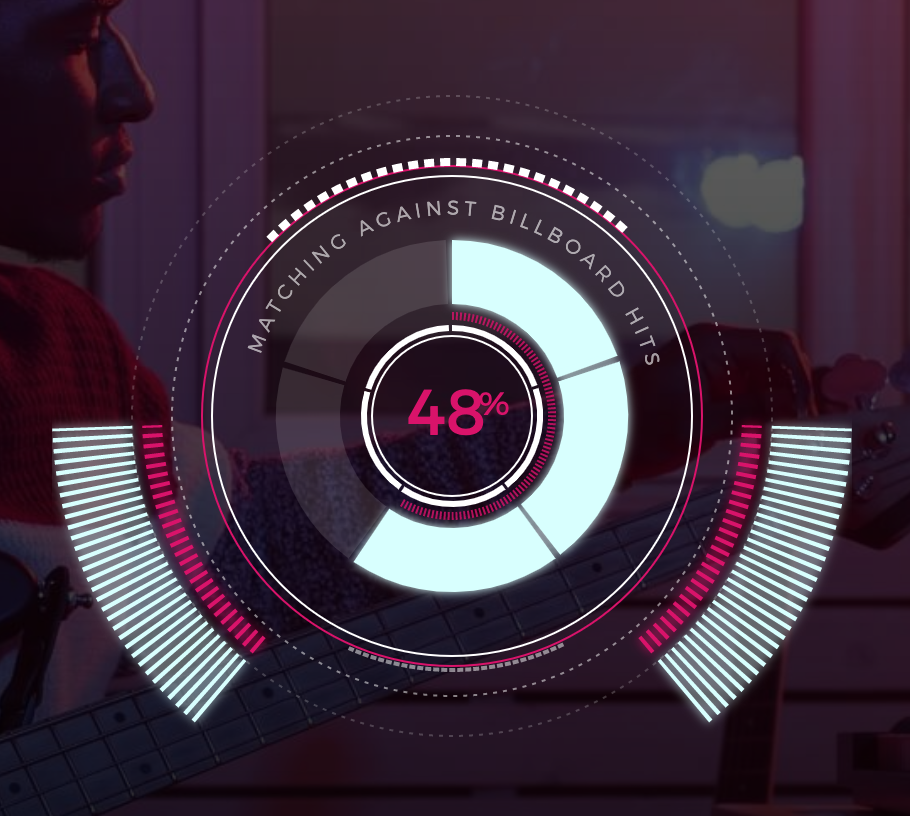 Here are a few more examples of the captions that it using for the processing captions
Optimizing for Radio
Optimizing for Streaming Services
Optimizing for TV
How it is optimizing for all these various playback systems and only giving a single file? You optimize a file for streaming and then send that to the stream services or optimize for radio and use that version for the radio, etc…
It doesn't make sense that all these optimizations are included in a single file – wouldn't they cancel each other out?
Subscription, Cancellation, and Refund with eMastered
So I can be as thorough as possible and give an honest review of how eMastered handles their customer service, I will also purchase a subscription and see how they honor their terms and conditions.
Note: They recently did an update to the website that made the annual commitment easier to see and understand. So that is a good start for them!
Refund Policy

They have a 14-day refund policy. So I should feel safe trying out their service as long as I don't abuse it and limit myself to 4 tracks….oh wait.
No, "Less than 4 tracks" so 3 tracks. Why not just say 3 tracks?
I just took a look at their Terms and Conditions and here are some of the things that I found very confusing.


Ok, that is the refund policy I saw on the front page. That looks fine to me.


It is saying no refunds for plus and professional plans. I could not find such plans names when I purchased it.


Again saying no refunds for the Annual Plus and Professional accounts, which I am assuming are the 1-year commit plans, but again these plan names are not found on the website.
The only plan names I could find were:
Monthly Pro
Advanced Pro
Yearly Pro
Anyway, we will eventually see if they honor the refund policy.
Purchase
So I just purchased the Advanced Pro Plan. It is the monthly billed plan with an annual commitment. Everything went smoothly.
Now I am going to use the service and only download 1 song. After that, I am going to cancel my subscription and ask for a refund.
Cancellation
I did go and check to see if they have a cancel plan button or if I would have to contact someone to cancel my subscription.
Luckily, they do have a cancel plan option.
However, they really do make it seem like if you cancel, you will not be able to use their mastering system anymore or download songs.
That isn't the case. You will still have access to the time you paid for. This wording would really discourage me from canceling my account immediately after I paid. In fact, it did.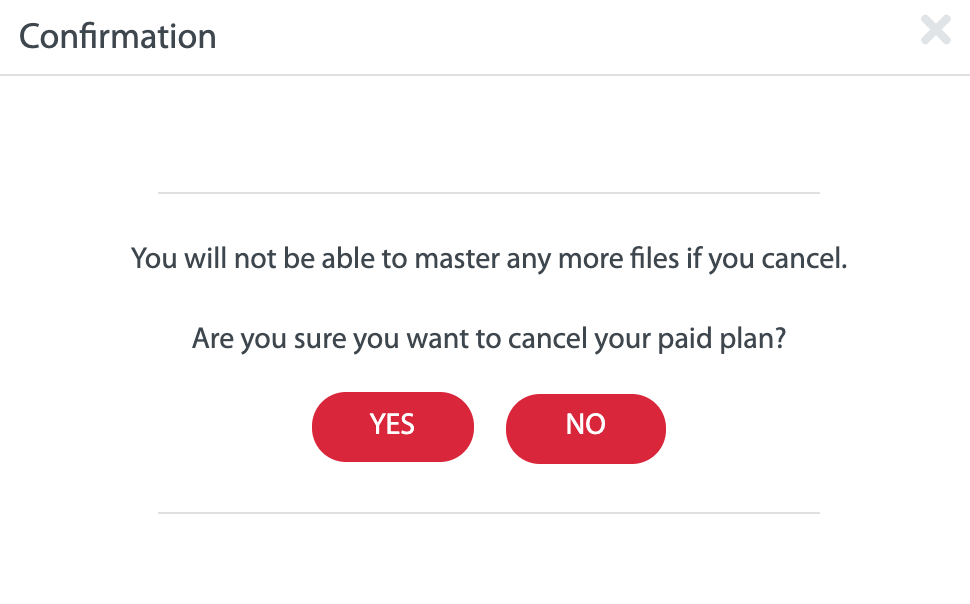 Another important thing to note is since I did the annual commitment option, I will still be billed every month even if I cancel. At the cancellation page, they do not make this explicit, and I can imagine a lot of people simply cancel thinking they will be not be billed anymore.
I would really recommend them to put some kind of warning or notice for people on the Advanced Pro plan on the cancellation page. There is information about it in the terms and conditions page, but most people are not going to read that thoroughly.
Refund
So I have only downloaded 2 songs from the service, and now I am going to ask for a refund because it's not working out for me.
So I just submitted my request for a refund. I need to wait for someone to become available. It's Sunday today, so I will probably have to wait until tomorrow to get a response.
So I got a message back from their customer service team. They basically asked if they had any issues with the service and why I wanted to refund.
I stated that it wasn't working out for me.
He customer service rep then issued me a refund on the spot. I was pleasantly surprised because having seen and read everything, I would have expected delays and such.
I'll check back in a month to verify I don't continue to get charged.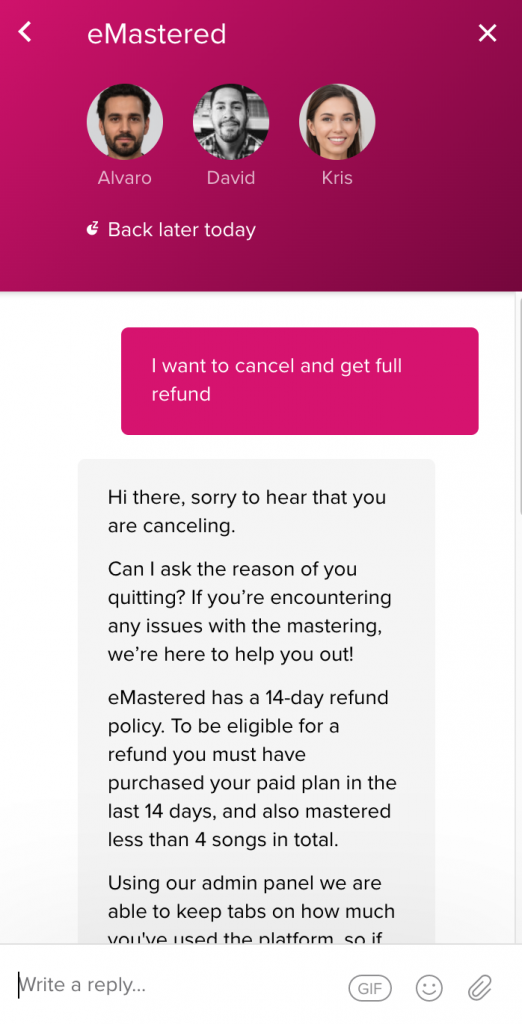 So while, this article has been mainly negative to eMastered. I had a fairly painless experience with their refund policy.
They might have taken all the negative feedback and are trying to turn things around with their website update and customer service. However, my experience solely doesn't reflect the experience of dozens of other people that have had a negative experience using their service. I hope everyone has a similar experience with them.
Advertising
If you do happen to go to their website, you are almost guaranteed to be hit with their retargeting ads such as this one .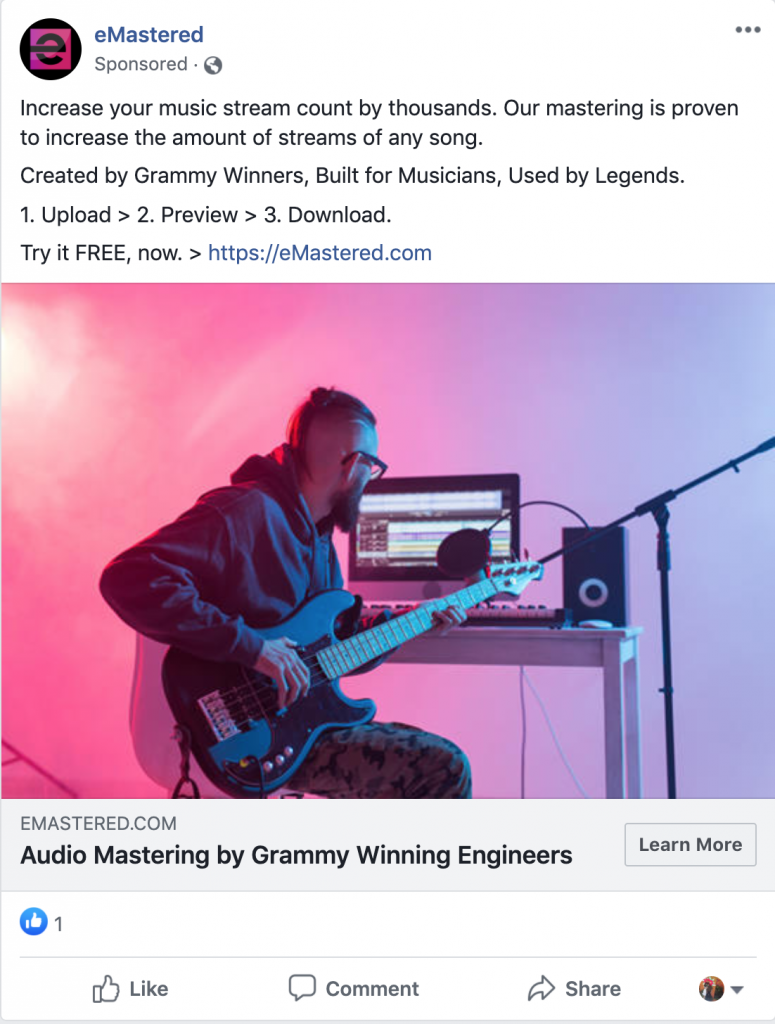 They make some very huge claims about how you still get thousands of more streams just from using their mastering service. This simply isn't true, and it doing a huge disservice to new musicians and producers that are inundated with all of the nuances of the music industry.
eMastered Alternative
There are plenty of other options to get your music mastered that don't require you to subscribe to an over-priced service.
While I am not exactly for automated mastering service, I do see their use for people musicians or producers just getting into producing or someone that needs to quickly "master" something as a demo. These services target market is generally not the mid-level musician that is starting to make a name for him or herself. Of these services, I feel Landr is more repeatable and they have a great blog that provides a lot of value.
The best alternative I would recommend is getting Izotpe Ozone either by purchasing it out-right during a sale or using the rent to own option at Splice.com
With Ozone, you can use the mastering assistant to help with the mastering decisions if you're still learning your way around music production. And for the more advanced users, there are plenty of options to make the changes that hear and change it the way that you want.
Check out the Spice Izotope Ozone Rental Program here.
Conclusion
I built this blog to help musician find great resources to help them move their there journey as a musician. I feel like I also need to write about some of the hidden dangers and villains along the path, and in my option, eMastered is one of those dangers that you need to avoid.
You can check out the resources menu at the top to see some of the resources that I recommend to learn more about mixing and mastering.
If you have experience with eMastered, good or bad, I would love to hear what you have to say. I would love to see if eMastered will be able to turn themselves around or if they continue on their current path.